THE PHENOMENON OF LIFE PHASES IN THE POETRY OF BLAZE KONESKI
Lusi Karanikolova-Chochorovska
Abstract
In this article we analyze the life stages in the poetry of Blaze Koneski, from the point of view of history and theory of mentality. Nine poems by Koneski are put to subspecialist analysis: "Life" and "Ars poetica" from the collection of poems "Old and new poems" (1979), then "Children", "Awakening", "Adults" and "Baby" by the book "Message" (1987), "Experiment" from the collection "Church" (1988), the poem "Life path" from the collection of poems "Seismograph" (1989) and the poem "New Year 1992" from the collection "Black aries" (1993). These are reflective poems with distinctly elegiac features and selected to show the poet's understanding of the phenomenon - life stages, i.e. age levels. In that sense, in the poems and through them will be treated the different periods of life (childhood, youth, adulthood and old age), chronologically, according to the history of the European mentality (antiquity, the Middle ages and the new century), as found in these poems, but also the thoughts and feelings of the emphasized lyrical subject according to this question. The purpose is to present a lesser known Koneski to the wider Macedonian readership, an adult, a little tired and melancholic, Koneski, who knows how to philosophize, poetically shape abstractions, to sound exhausted, to grieve and sick, to rejoice and value life...
Keywords: life; childhood; youth; middle age; old age; poetry.
Downloads
Download data is not yet available.
References
Андреевски, Ц. (1991). Разговори со Конески. Скопје: Култура.
Георгиевска-Јаковлева, Л. (2012). Идентитет(и). Скопје: Институт за македонска литература.
Конески, Б. (1990). Ликови и теми. Скопје: Култура.
Конески, Б. (1990). Песни. Скопје: Култура.
Конески, Б. (2002). Сите мои песни. Скопје: Табернакул.
Конески, Б. (2011). Поезија. Скопје: МАНУ, Критичко издание во редакција на Милан Ѓурчинов.
Мартиноска, А. (2012). Конески и фолклорот. Скопје: Институт за македонска литература.
Мартиноска, А. (2014). Културни парадокси (Родот, етницитетот и идентитетот во фолклорот и литературата) / Cultural Paradoxes (Gender, Ethnicity and Identity in Folklore and Literature). Скопје: Институт за македонска литература.
Мојсиева-Гушева, Ј. (2010). Во потрага по себеси. Скопје: Институт за македонска литература.
Старделов, Г. (1990). Одземање на силата. Скопје: Мисла.
Тодоровски, Г. (2002). Блаже Конески како национален мислител. Во: Делото на Блаже Конески – Остварувања и перспективи. Скопје: МАНУ, 65-77.
Цвијиќ, Ј. (1991). Балканско Полуострово. Београд: САНУ.

*
Dincelbaher, P. (2009). Istorija evropskog mentaliteta. Podgorica: Службени гласник. CID.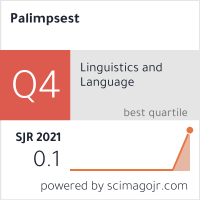 How to Cite
Karanikolova-Chochorovska, L. (2021). THE PHENOMENON OF LIFE PHASES IN THE POETRY OF BLAZE KONESKI. PALIMPSEST / ПАЛИМПСЕСТ, 6(12), 75-87. https://doi.org/10.46763/PALIM21612075kc
Section
КНИЖЕВНОСТ/ LITERATURE