BLAŽE KONESKI AND DANTE ALIGHIERI – A HOMAGE TO THE POETS AND THEIR POETRY
Abstract
2021 marks two important centenaries: it is both 100 years from the birth of the Macedonian poet Blaže Koneski, and 700 years from the death of the father of the Italian language, Dante Alighieri. This paper compares the two authors, discussing their poetic ideas and their position in their respective cultures. The comparison is proposed from the point of view of the symbiosis of the role of poet and linguist in their important cultural contribution, of a national character, in particular in their commitment to the constitution of the literary language. Furthermore, both poets followed their "poetic intuition" in order to give a particular vitality to their linguistic conceptions. Finally, Koneski's poem entitled "Dante" is analysed, where the Macedonian author reflects some of his most intimate existential dilemmas in a creative dialogue with the great Italian poet.
Keywords: Dante Alighieri; Blaže Koneski; centenarians; poetics; literary language.
Downloads
Download data is not yet available.
References
Конески, Б. (2011¹). Поезија. Книга прва, (Цело¬куп¬ни дела на Блаже Конески, критичко издание, том бр. 1). Скопје: МАНУ.
Конески, Б. (2011²). Поезија. Книга втора, (Цело¬куп¬ни дела на Блаже Конески, критичко издание, том бр. 2). Скопје: МАНУ.
Конески, Б. (2018). Светот на песната и на легендата. (Цело¬куп¬ни дела на Блаже Конески, критичко издание, том бр.5). Скопје: МАНУ.

***
Bloom, H. (2008), Il canone occidentale. trad. di F.Saba Sardi. Milano; Rizzoli.
Calvino, I. (1991). Perché leggere i classici. Milano: Mondadori.
Gnisci A., F.Sinopoli, & N.Moll, (2010). La letteratura del mondo nel XXI secolo. Milano: Bruno Mondadori.
Magris, C. (2005) Prefazione, Infinito viaggiare, Milano: Mondadori.
Minissi N. (2007), Blaže Koneski, poeta e grammatico, Skopje: Accademia macedone delle scienze e delle belle arti.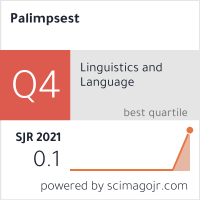 How to Cite
Gjurčinova, A. (2021). BLAŽE KONESKI AND DANTE ALIGHIERI – A HOMAGE TO THE POETS AND THEIR POETRY. PALIMPSEST / ПАЛИМПСЕСТ, 6(12), 97-106. https://doi.org/10.46763/PALIM21612097gj
Section
КНИЖЕВНОСТ/ LITERATURE