THE FORGIVENESS HOLIDAY IN TRAJCHE'S FAMILY (A FEW WORDS ABOUT THE SHORT STORY "FORGIVENESS" BY BLAZHE KONESKI)
Slavica Urumova-Markovska
Abstract
This paper analyzes the customs and beliefs associated with the great holiday of Forgiveness. It is obvious that forgiveness is a custom established under the influence of the church, while the carnivals are remnants of the pre-Christian spring parties that Koneski beautifully described in the autobiographical text "Forgiveness". The purpose of this paper is to get into the roots of this celebration in order to discover its essential importance for Koneski from all aspects; to penetrate the centuries-old cultural influences in order to understand the current cultural tradition of our people. Efforts are made to point out the importance of nurturing of tradition and celebration, as an expression of Koneski's cultural memory. This topic is equally important for Macedonian folklore and Macedonian literature.
Keywords: customs; forgiveness; bears; love; Korilche; autobiography.
Downloads
Download data is not yet available.
References
Андреевски, Цане (1991). Разговори со Конески. Скопје: Култура.
Вражиновски, Танас (1999). Народната традиција, религија, култура. Скопје: Матица македонска.
Вражиновски, Танас (2002). Актерството на народниот раскажувач. Скопје: Матица македонска.
Вражиновски, Танас; Џафери, Хамит (2008). Рајот и пеколот во македонската и албанската народна традиција. Скопје: Матица македонска.
Китевски, Марко (1996). Македонски народни празници и обичаи. Скопје: Менора.
Китевски, Марко (2001). Македонски празници. Скопје: Менора.
Китевски, Марко (2014). Историја на македонскиот фолклор. Скопје: Гирланда.
Павловски, Мишел (2005). Средновековниот театар на почвата на Македонија. Зборник Театарот на почвата на Македонија од Антиката до денес, книга 13. Скопје: МАНУ.
Ристески, Димитрија (2002). Светот на малите луѓе кај Конески и Чехов. Во: Делото на Блаже Конески, Меѓународен научен собир по повод 80-годишнината од раѓањето на Блаже Конески. Скопје: МАНУ.
Сувариев, Илија (1998). Обичаи со маски застапени во зимскиот календар на народни празници со осврт на струмичкиот карневал и неговото потекло. Во: Обичаи со маски, Трудови од Меѓународниот симпозиум одржан во Вевчани – Струга, 1996 година.
Хол, Аделаида С. (2013). Речник на значајни симболи во нивната хебрејска, паганска и христијанска форма. Скопје: Каламус.

*
Enciklopedija leksikografskog zavoda, 4 (1968). Zagreb: Jugoslovenski leksikografski zavod.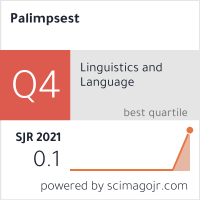 How to Cite
Urumova-Markovska, S. (2021). THE FORGIVENESS HOLIDAY IN TRAJCHE'S FAMILY (A FEW WORDS ABOUT THE SHORT STORY "FORGIVENESS" BY BLAZHE KONESKI). PALIMPSEST / ПАЛИМПСЕСТ, 6(12), 125-135. https://doi.org/10.46763/PALIM21612125um
Section
КНИЖЕВНОСТ/ LITERATURE