THE MATERNAL BODY IN L'AMORE MOLESTO BY ELENA FERRANTE
Abstract
This paper proposes a new reading of the novel L'Amore molesto by Elena Ferrante, through the analysis of the relationship of the narrative voice of the daughter, Delia, with the maternal body, but also with her own inhibited sexuality. Literary daughters deny their own body and focus on that of the mother which is often experienced in two different ways: as an idealized body or as an object that is part of the way this body is perceived by patriarchy. Analyzing the novel, we will try to show how the process of building a daughter's identity goes through the initial denial of the mother, accepting the mother as a person to building a self-accepting subjectivity.
Keywords: body; mother and daughter; identity; Italian novelist.
Downloads
Download data is not yet available.
References
Libri
Chemotti, S. (2009). L'inchiostro bianco. Il rapporto madre-figlia nella letteratura contemporanea. Padova: Il Poligrafo.
Drakulić, S. (1994). Pelle di marmo. Firenze: Giunti.
Ferrante, E. (1992). L'amore molesto. Roma: Edizioni e\o.
Ferrante, E. 2. (2003). La frantumaglia. Roma: Edizioni e\o.

Capitoli di libri
Petrovic Njegoš, T. (2005). L'amore molesto di Amalia e Delia. In A. Scacchi(Eds.), Lo specchio materno. Madri e figlie tra biografia e letteratura, Roma: Luca Sassella.

Riviste scientifiche
Marras, M. (2008). Corporeità, femminile e femminismo in Disìo di Silvana grassonell'Amore molesto di Elena Ferrante. Narrativa», nuova serie, n. 30, 151-165.
Marchais,N. (2008). Bambine, ragazze e donne nella narrativa di Simona Vinci. Narrativa, nuova serie, n.30, 45-59.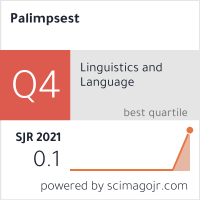 How to Cite
Kobilj Ćuić, S. (2021). THE MATERNAL BODY IN L'AMORE MOLESTO BY ELENA FERRANTE. PALIMPSEST / ПАЛИМПСЕСТ, 6(12), 177-184. https://doi.org/10.46763/PALIM21612177kch
Section
КНИЖЕВНОСТ/ LITERATURE