REVIEW OF THE LAST POETRY COLLECTION, "BLACK ARIES" BY BLAZE KONESKI
Abstract
This paper is an overview of the last poetry collection of Blaze Koneski. It is about the poetic collection "Black Aries", published only a few months before his death. Although he planned to stop writing, the influx of verses made him create his last piece. Koneski gives a symbolic title to his collection, trying from the beginning to present his view and express his feelings. The overall poetry of this collection is a set of intertwined emotions: sadness, loneliness, nostalgia, turmoil. He uses short, but well-thought words, which may seem poor, but they are with deep meaning. But also in his poetry, Koneski expresses his calmness and his anticipation of the end as death constantly lurks over his pen. He himself feels the end approaching, so he finalized one era, epoch, as it befits such a great poet.
Keywords: last words; forgiveness; pain; sadness; death.
Downloads
Download data is not yet available.
References
1. Конески Блаже (1993). Црн овен. Скопје: Култура.
2. Пирузе-Тасевска Виолета (2002). Блаже Конески за македонскиот романтизам (Поттици, инспирации, иновации). Делото на Блаже Конески (Остварувања и перспективи). Скопје: Македонска академија на науките и уметностите.
3. Старделов Георги (2000). Одземање на силата. Скопје: Ѓурѓа.
4. Тресидер Џек (2001). Речник на симболи. Скопје: Три.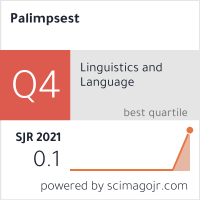 How to Cite
Samardzieva, B. (2021). REVIEW OF THE LAST POETRY COLLECTION, "BLACK ARIES" BY BLAZE KONESKI. PALIMPSEST / ПАЛИМПСЕСТ, 6(12), 215-218. https://doi.org/10.46763/PALIM21612215s
Section
ПРИКАЗИ / BOOK REVIEWS