TECHNIQUES WHICH PROMOTE CRITICAL THINKING IN ELT – A STUDY CONDUCTED IN HIGH SCHOOLS OF SKOPJE
Arbnora Sulejmani

Brikena Xhaferi
Abstract
The field of ELT is evolving every day. Analytical thinking is an important skill when learning a language, which also means that a language learner understands various aspects of the language and its usage in different contexts. At the same time, it increases learners' knowledge and develops the 4 language skills. Since critical thinking is considered as a difficult skill to master, in order to develop and improve one's CT, it is the teachers' duty to use various techniques and methods, find a way to implement them and assist the teaching-learning process, during their teaching. It is difficult to find a suitable technique in order to keep the students' motivation to use critical thinking when acquiring a language, to understand and explain what critical thinking is and to draw personal conclusions and results from each aspect of the language. The objective of this research is to investigate whether there is a significant difference of students' achievements and acquirement of the language by implementing critical thinking techniques, to determine the degree in which critical thinking is used in ELT, the benefits that it presents in facilitating the teaching process and to discover if critical thinking techniques can be successfully implemented in our schools or not, possibly as a 5th language skill. The results of the study showed that students, had varying degrees of approval in various questions, and that almost every participating teacher had used critical thinking techniques in ELT at some point, resulting in students' growth and improvement in motivation, fluency and linguistic proficiency.
Keywords: critical thinking skill, techniques, student-centered classrooms and environments, students' attitude towards CT, implementation of critical thinking.
Downloads
Download data is not yet available.
References
Aryani, F., Rais, M., & Wirawan, H. (2017). Reflective learning model in improving student critical thinking skills. Global Journal of Engineering Education , 19, 2–2. doi: http://www.wiete.com.au/journals/GJEE/Publish/vol19no1/02-Wirawan-H.pdf
Graddol, D. (2006). English Next- Why global English may mean the end of 'English as a Foreign Language' [http://englishagenda.britishcouncil.org/sites/default/files/attachments/books-english-next.pdf]. doi: http://englishagenda.britishcouncil.org/sites/default/files/attachments/books-english-next.pdf
Karbalaei, A. (2012, May). CRITICAL THINKING AND ACADEMIC ACHIEVEMENT . CRITICAL THINKING AND ACADEMIC ACHIEVEMENT . Retrieved from http://www.scielo.org.co/scielo.php?script=sci_arttext&pid=S0123-34322012000200001
Kailani, I., & Bakar, M. N. B. (2015). Developing Critical Thinking Skills of Students in Mathematics Learning . Journal of Education and Learning, 9. doi: https://www.researchgate.net/publication/282526043_Developing_Critical_Thinking_Skills_of_Students_in_Mathematics_Learning
Kawamura, M., & Wu, P.-H. N. (2015). Developing Critical Thinking Skills Through Content Base Learning Using Media [https://pdfs.semanticscholar.org/98aa/e3d8ea42feada1dbd50c0e2a3575e4a3a9ec.pdf]. Retrieved from https://pdfs.semanticscholar.org/98aa/e3d8ea42feada1dbd50c0e2a3575e4a3a9ec.pdf
Murcia, M. C. (2014). Teaching English as a Second or Foreign Language [https://www.scribd.com/document/326288608/Teaching-English-as-a-Second-Foreign-Language-pdf] (4th ed.). doi: https://www.scribd.com/document/326288608/Teaching-English-as-a-Second-Foreign-Language-pdf
Wang, X., & Zheng, H. (2016). Reasoning Critical Thinking: Is It Born or Made? [https://pdfs.semanticscholar.org/a3b5/4c40ecf4f124c168a173f2c7686405fa16fb.pdf] (6th ed., Vol. 6). Guangdong Province, China: ACADEMY PUBLICATION. doi: http://www.academypublication.com/ojs/index.php/tpls/article/view/tpls060613231331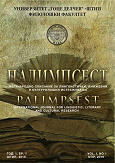 How to Cite
Sulejmani, A., & Xhaferi, B. (2020). TECHNIQUES WHICH PROMOTE CRITICAL THINKING IN ELT – A STUDY CONDUCTED IN HIGH SCHOOLS OF SKOPJE. PALIMPSEST / ПАЛИМПСЕСТ, 5(9), 253-263. https://doi.org/10.46763/palim2090253s
Section
МЕТОДИКА НА НАСТАВАТА / TEACHING METHODOLOGY