REVIEW: "LES INTERFÉRENCES LINGUISTIQUES DU FRANÇAIS SUR LE SLOVAQUE. L'EXEMPLE DU SYSTÈME VERBAL" (FRENCH LINGUISTIC INTERFERENCES ON SLOVAK. THE EXAMPLE OF THE VERBAL SYSTEM), BY LUCIA RÁČKOVÁ AND FRANÇOIS SCHMITT
Abstract
Les interférences linguistiques du français sur le slovaque analyses exolingual productions in Slovak from French native speakers. The analyze focuses on linguistic transfers phenomenon from the mother language and other languages, mainly from English, to a lesser extend from German and Spanish, to the target language on the verbal system. This book delivers interesting results for linguistics as well as for didactics of foreign languages. As regards the linguistics, the main results concern the constant interference of the mother language and the other languages mastered by speakers to the foreign language acquisition process. Regarding the didactic field, this book offers new approaches based on contrastive analysis between Slovak and the other languages from the linguistic repertoire of the learner.
Keywords: French, Slovak interlanguage, linguistic interferences, linguistic transfer.
Downloads
Download data is not yet available.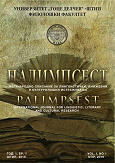 How to Cite
Zázrivcová, M. (2020). REVIEW: "LES INTERFÉRENCES LINGUISTIQUES DU FRANÇAIS SUR LE SLOVAQUE. L'EXEMPLE DU SYSTÈME VERBAL" (FRENCH LINGUISTIC INTERFERENCES ON SLOVAK. THE EXAMPLE OF THE VERBAL SYSTEM), BY LUCIA RÁČKOVÁ AND FRANÇOIS SCHMITT. PALIMPSEST / ПАЛИМПСЕСТ, 5(9), 291-294. https://doi.org/10.46763/palim2090291z
Section
ПРИКАЗИ / BOOK REVIEWS