CRISIS OF UPBRINGING AND EDUCATION: HOW TO BECOME A PART OF THE SOLUTION RATHER THAN BEING PART OF THE PROBLEM
Tonca Jukic

Anita Mandaric Vukusic
Abstract
For decades people have been talking about the crisis of upbringing and education as a permanent phenomenon which in different times appears with different intensity. Modern age is also marked by rapid development of science and technology, posing new challenges to education that pedagogy should answer to. Pedagogues are crucial in this process, and for their quality work, it is important to think critically about upbringing and education, as fundamental pedagogical categories, and perceive them in a wider social, as well as in a narrow personal, context of responsibility. The paper presents the results of research opinions of future pedagogues about whether upbringing and education are in crisis. The study was conducted among the 1st year undergraduate students at the Department of Pedagogy, University of Humanities and Social Sciences in Split, in academic year 2009/2010, as well as in academic year 2014/2015. Both generations of students agreed that upbringing and education are in crisis. Explanations of such an attitude, by analyzing the contents, are classified into seven categories four of which were related to crisis in education, and three were related to crisis of upbringing. Out of 154 valid responses by the students, 110 were related to crisis of education and 44 were related to crisis of upbringing. This paper wants to emphasize the importance of raising awareness of fundamental pedagogical questions during educational and pedagogical studies, in order to sensitize future teachers and pedagogues for their responsibilities and their role of agents of change in the process of transformation from traditional school into a developing and learning community, suitable for learning and development.

Keywords: education; parents; traditional; teachers; values.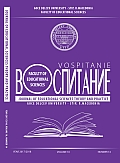 How to Cite
JUKIC, Tonca; MANDARIC VUKUSIC, Anita. CRISIS OF UPBRINGING AND EDUCATION: HOW TO BECOME A PART OF THE SOLUTION RATHER THAN BEING PART OF THE PROBLEM.
Воспитание / Vospitanie - Journal of Educational Sciences, Theory and Practice
, [S.l.], v. 10, n. 14, p. 11-20, nov. 2018. ISSN 1857-8705. Available at: <
http://js.ugd.edu.mk/index.php/vospitanie/article/view/2479
>. Date accessed: 05 july 2020.