Capital Flows to Emerging and Transition Economies During and After the Global Financial Crisis in 2008
Vesna GEORGIEVA

Univesity Goce Delchev- Shtip, Faculty of Economy, Macedonia

Riste TEMJANOVSKI

Faculty of Economy, University "Goce Delcev"- Shtip, MAcedonia
Abstract
During the years before the crisis, emerging market economies have encountered large waves of capital flow. Nevertheless, with the beginning of the crisis, the financial institutions from developed countries stricken by the crisis, started massive withdrawal of capital from their affiliates located in emerging market economies, which caused a negative influence over the foreign exchange reserves and national currencies and even over the liquidity crisis in these economies. This paper analyses the dynamics of various types of capital flows to emerging economies during and after the global financial crisis. The first part discusses dynamics of various types of international capital flows during the global financial crisis. The second part focuses on the regional distribution of capital inflows to emerging markets economies. The third part raises the issue of the changed pattern of foreign direct investment, observed during and after the global crisis. The fourth part discusses possible policy responses for dealing with volatile capital flows to emerging market economies.
Key words:
capital flows, emerging economies, global financial crisis, foreign direct investment, portfolio inflows, remittances
Downloads
Download data is not yet available.
References
Aizenman J. and Pinto B. (2011): "Managing Financial Integration and Capital Mobility", Working Paper, October, http://www.voxeu.org.
Caruana J. (2011):"Capital Flows to the Emerging Market Economies: a Perspective on Policy Challenges", Bank for International Settlements BIS, February.
Chandrasekhar C.P. and Ghosh J. (2011): "Revisiting Capital Flows", Column published in Business Line, May.
Cociuba, S.E. (2011): " Upstream Capital Flows: Why Emerging Markets Send Savings to Advanced Economies," Economic Letter, Federal Reserve Bank of Dallas, January.
Gallagher P.K. (2011): "Capital Controls and Developing Countries", IMF Paper, Vol. XLVI Nb.19 May.
German Development Institute (2011): "Capital Flows to Emerging Economies - Prelude to the Next Crisis?" by Dr. Ulrich Volz, May.
Institute of International Finance IIF, (2011): "Capital Flows to Emerging Markets Economies", September 25.
International Monetary Fund (2011): "International Mutual Funds, Capital Flow Volatility and Contagion-A Survey", by Gaston Gelos, Working Paper 11/92, April.
International Monetary Fund (2011a): "Capital Flows to Emerging Markets May Slow When Fed Raises Interest Rates", Business-the internet newspaper, October, 28.
Lawson J. (2012): "Capital Flows to Emerging Economies" published at IIF.
Petkovski et at (2012): "The Macroeconomic Effects of Remittances in Southeast Europe", IFIMES International Institute for Middle East and Balkan Studies, www.ifimes.org.
Poulsen L. S. and. Hufbauer G. C. (2011): "Foreign Direct Investment in Times of Crisis", Working Paper 11., January.
Roanne L. G. (2011): "Coping with Surges in Capital Flows: The Philippine Case" Banko Central NG Pilipinas, Economic Newsletter Nb. 11., March-April.
Roxburg C., et al (2011): "Mapping Global Capital Markets", Mc Kinsey Global Institute, August.
Roubini N. (2010): "How Should Emerging Markets Manage Capital Inflows and Currency Appreciation?", www.roubini.com/ analysis., November.
Rummel O. (2011): "Recent Dynamics of Capital Flows to Emerging Markets and Lessons from Emerging Europe", Bank of England, May.
Vintila D. M. (2011): "Foreign Direct Investments During Financial Crises", The Academy of Economic Studies, Bucharest , Faculty of International Business.
Wood B, (2011): "Next Worry: Capital Flows to Emerging Economies. Market Watch", Washington, www.moisesnaim.com., April.
Yuthamanop P. (2011): "Hot money to Rock Asian Capital Markets", Bangkok Post, Thailand, www.bangkokpost.com, August.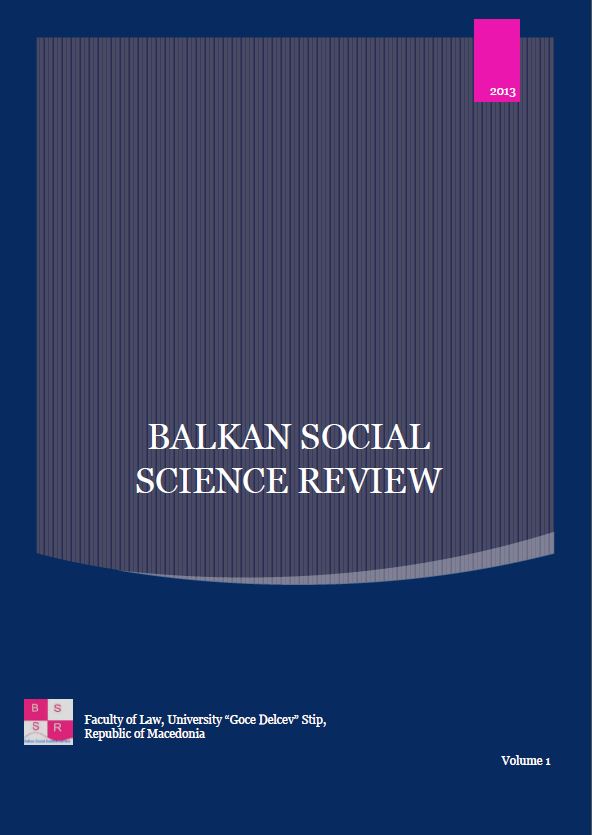 Permissions
Authors are expected to obtain permission from copyright holders for reproducing any illustrations, tables, figures or lengthy quotations previously published elsewhere. BSSR will not be held accountable for any copyright infringement caused by the authors.
Copyright
The content offered in the BSSR remains the intellectual property of the authors and their publishers respectively. University "Goce Delcev"- Shtip, R. Macedonia and BSSR keap the right to promote and re-publish the texts.