THE BALKAN WARS AND THE FIRST WORLD WAR AS MOTIFS IN THE FOLK SONGS FROM STRUMICA AND STRUMICA REGION
Abstract
Ivan Kotev is the biggest living contemporary collector of folk art, who in his five-decade search for the folklore treasure of Strumica and the region has collected extensive folklore-ethnographic material. The book "A terrible battle started up in the Balkans" (Macedonian folk songs from Strumica and Strumica area about the Balkan Wars and the First World War) is a rare book in Macedonian folklore that contains about forty folk songs with motifs from the Balkan Wars and the First World War. The literary-linguistic analysis of the folklore units included in the book give a clearer image of an important period of Macedonian history, about which the people sang the least. The poems are original records and variants of known motifs from an important historical epoch and during their detailed analysis, the linguistic features (especially lexical) of the vernacular from this area and its development over a period of almost fifty years are emphasized.
Keywords: Folk song, Balkan Wars, World War I.
Downloads
Download data is not yet available.
References
Веновска-Антевска, С. (2013). Јазичните состојби во Струмичко по Балканските војни. Во: Зборник на трудови од научниот собир: Струмица и Струмичко за време на Балканските војни и Букурешкиот мировен договор, Струмица 2012. Струмица: Завод за заштита на спомениците на културата и Музеј – Струмица.
Витанова-Рингачева, А. (2014). Тромеѓата во поезијата на Стојчо Балкански и Егејската Прародина на Љубен Ташковски – рецидив од стогодишната голгота на македонските откорнатици. Во: Зборник на трудови од научниот собир: Струмица и Струмичко за време на Балканските војни и Букурешкиот мировен договор, Струмица 2012. Струмица: Завод за заштита на спомениците на културата и Музеј – Струмица.
Јанчева, Љ. и Мирчевска, М. (2013). Струмица и Струмичко. Нова дестинација на кукушките бегалци. Во: Зборник на трудови од научниот собир: Струмица и Струмичко за време на Балканските војни и Букурешкиот мировен договор, Струмица 2012. Струмица: Завод за заштита на спомениците на културата и Музеј – Струмица.
Китевски, М. (2013). Македонските народни песни за Балканските војни. Во: Зборник на трудови од научниот собир: Струмица и Струмичко за време на Балканските војни и Букурешкиот мировен договор, Струмица 2012. Струмица: Завод за заштита на спомениците на културата и Музеј – Струмица.
Котев, И. (2014). Одразот на Балканските војни и Првата светска војна во народната песна од Струмичко. Зборник на трудови во спомен на Емилија Петковска. Струмица: Завод за заштита на спомениците на културата и Музеј – Струмица.
Котев, И. (2020). Жената во народната песна со тематика од Првата светска војна. Скопје: АКТ.
Пандевски, М, Стоев-Трнката, С. (1969). Струмица и Струмичко низ историјата. Струмица: Општински одбор на Сојузот на здруженијата на борците од НОБ – Струмица.
Ристовски, Б. (1987). Македонскиот фолклор и националната свест (том I). Скопје: Студентски збор.
Трајановски, А. (2017). Последиците од Балканските војни во источниот дел на Македонија (1912-1915). Во: Букурешкиот мировен договор (1913) и неговите долгорочни последици за Македонија и Југоисточна Европа: материјали од Македонско-рускиот научен собир одржан во Скопје на 27 и 28 јуни 2013 година. Скопје: Македонска академија на науките и уметностите, Руска академија на науките и Институт за славистика.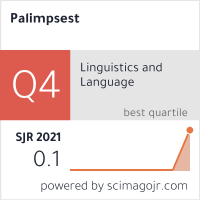 How to Cite
Vitanova-Ringaceva, A. (2021). THE BALKAN WARS AND THE FIRST WORLD WAR AS MOTIFS IN THE FOLK SONGS FROM STRUMICA AND STRUMICA REGION. PALIMPSEST / ПАЛИМПСЕСТ, 6(11), 171-182. https://doi.org/10.46763/PALIM21116171vr
Section
КНИЖЕВНОСТ/ LITERATURE