TWO ANNIVERSARIES – TWO PIVOTS' CENTURIES (THE TWO GREAT MACEDONIAN ANNIVERSARIES - 95 YEARS SINCE THE DEATH OF KRSTE PETKOV MISIRKOV AND 100 YEARS SINCE THE BIRTH OF BLAZE KONESKI)
Abstract
There are years in the history of every nation that have written history, years of creation and years of significant historical returns. This year 2021 is marked by the two pivotal anniversaries for Macedonia and the Macedonian people, 95 years since the death of Krste Petkov Misirkov and 100 years since the birth of Blaze Koneski. For the Macedonian people, language and the country in general, the year 2021 is a year of returning to the two pivots, two strong pillars dug deep into the foundations of the Macedonian existence. When we write about the position of these two great linguists and codifiers of the Macedonian literary language, then the conclusion that without them we could not talk about the Macedonian cultural-linguistic continuity is inevitably confirmed. The work of Misirkov and Blaze Konesi is our strongest argument against all the imposed denials of our existence and cultural continuity, arguments that we inherited more than 100 years ago. The paradigm set by Misirkov received its extensive elaboration and practical demonstration in the codification of the Macedonian literary language, a logical act after the centuries-old process of language maturation.
Keywords: Blaze Koneski; Krste Petkov Misirkov; macedonian literary language.
Downloads
Download data is not yet available.
References
Андреевски, Ц. (1991). Разговори со Конески. Скопје: Култура.
Вангелов, А. (2004). Македонски писатели. Скопје: Култура.
Веновска-Антевска, С. (2016). Делото на Крсте Мисирков – Бедемот на македонските прашања (кон деведесетгодишнината од смртта на Крсте Мисирков). Во: Свето Стаменов. (2020). Јазикот – нашата единствена комплетна татковина. Скопје: самостојно издание.
Конески, Б. (1945). Една македонска книга. Нова Македонија, II, бр. 164, 15.07. 1945.
Конески, Б. (1956). К. П. Мисироков (по случај 30-годишнината од смртта). Македонски јазик, VII, 1, Скопје: ИМЈ, 1-7.
Конески, Б. (1967). За македонскиот литературен јазик. Скопје: Култура.
Мисирков, К. П. (1924). Македонска култура. Мир, XXX, 19. IV.
Мисирков, К.П. (1986). За македонските работи. Скопје: Мисла, Македонска книга.
Ристовски, Б. (1998). Раните ракописи на Крсте П. Мисирков на македонски јазик. Скопје: МАНУ.
Ристовски, Б. (2002). Мисирков во истражувачката визура на Конески (Обид и за споредбено видување). Во: Делото на Блаже Конески. Остварувања и перспективи. Скопје: МАНУ, 95-111.
Стаматоски, Т. (1995). Кон ликот на Блаже Конески. Скопје: Детска радост.
Стаматоски, Т. (2006). Мислата на Блаже Конески. Скопје: Фондација за македонски јазик "Небрегово".
Стаматоски, Т. (2016). Македонски јазик: идентитет и континуитет – доискажување. Скопје: Култура.
Старделов, Г. (2017). Носталгија по Мисирков. Кон критичкото издание на неговите собрани дела, том I, МАНУ, Скопје, 2005. Подготовка: Блаже Ристовски. Манускрипт, 2017, Скопје: МАНУ, 215–238.
Старделов, Г. (2018). Епохата Блаже Конески. Скопје: МАНУ, Матица македонска.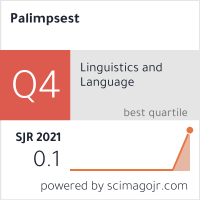 How to Cite
Vitanova-Ringaceva, A. (2021). TWO ANNIVERSARIES – TWO PIVOTS' CENTURIES (THE TWO GREAT MACEDONIAN ANNIVERSARIES - 95 YEARS SINCE THE DEATH OF KRSTE PETKOV MISIRKOV AND 100 YEARS SINCE THE BIRTH OF BLAZE KONESKI). PALIMPSEST / ПАЛИМПСЕСТ, 6(12), 107-116. https://doi.org/10.46763/PALIM21612107vr
Section
КНИЖЕВНОСТ/ LITERATURE