TRANSLATION OF THE ENGLISH TITLES INTO MACEDONIAN WITH AN EMPHASIS ON THE USE OF THE MARKERS OF DEFINITENESS
Abstract
The aim of this paper it to give an outline of the English titles of literature works, theater plays and films and their Macedonian translation equivalents with an emphasis on the use, or the omission of the markers of definiteness. The research is conducted on a corpus of English titles excerpted from catalogues of film and theater art and titles of literature works and their translation into Macedonian. We are focused on the use of the markers for the grammatical category definiteness. Analyzing the corpus of excerpted titles, similarities and differences regarding the use, or the omission of the markers for expressing the definiteness have been perceived.
Keywords: title; translation; NP; markers; definiteness.
Downloads
Download data is not yet available.
References
[1] Biber, D., Johansson S., Leech, G., Conrad, S. and Finegan, E. (1999). Longman grammar of spoken and written English. London: Pearson Education Limited.
[2] Catford, J.C. (1956). A Linguistic Theory of Translation. Oxford: Oxford University Press.
[3] Cotter, C. (2010). News talk: Investigating the language of journalism. Cambridge: University Press.
[4] Crystal. D. (2003). A Dictionary of linguistics and phonetics (5th) edition. Oxford: Oxford University Press.
[5] Halliday, M. A. K. (1985). An Introduction to Functional Grammar. London: Edward Arnold.
[6] Mardh. I. (1980). On the Grammar of English Front Page Headlines. Malmő: Gotab.
[7] Prašková, E. (2009). Grammar in newspaper headlines. BA: thesis. Pardubice: University in Pardubice, Faculty of Arts and Philosophy. Available from: https://dk.upce.cz/bitstream/handle/10195/34683/PraskovaE_GrammarIn_PH_2009.pdf?sequence=1[Accessed: July 8th, 2021].
[8] Quirk. R., Greeenbaum, S., Leech, G. and Svartvik, J. (1985). A comprehensive grammar of the English Language. London: Longman.
[9] Swan. M. (2005). Practical English Usage. Oxford: Oxford: University Press.

*
[1] Арсова-Николиќ, Л. (1999). Преведување: теорија и практика. Скопје: Универзитет "Св. Кирил и Методиј".
[2] Јанушева. В. (2018). Синтакса на насловите во електронските медиуми во македонскиот стандарден јазик. Journal of Contemporary Philology (2) 1, 59-79 Available from: https://doi.org/10.37834/JCP1910059j [Accessed: March 20th, 2020].
[3] Минова-Ѓуркова, Л. (2000). Синтакса на македонскиот стандарден јазик. Скопје: Магор.
[4] Митковска, Л. (2005). Изразувањето на посесивност на ниво на именската синтагма. Докторска дисертација. Скопје: Филолошки Факултет "Блаже Конески".
[5] Михајловски, Д. (2019). Преведување книжевност. Скопје: Просветно дело.
[6] Tополињска. С. (1973). Граматика на именската фраза во македонскиот литературен јазик (род, број, посоченост). Скопје: МАНУ.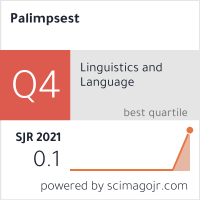 How to Cite
Vidova, K. (2021). TRANSLATION OF THE ENGLISH TITLES INTO MACEDONIAN WITH AN EMPHASIS ON THE USE OF THE MARKERS OF DEFINITENESS. PALIMPSEST / ПАЛИМПСЕСТ, 6(12), 27-35. https://doi.org/10.46763/PALIM21612027v