TEACHING FORMS, METHODS AND TECHNIQUES USED BY EFL TEACHERS AND THEIR INFLUENCE ON INTROVERTED STUDENTS
Ana Koceva

Faculty of Philology, Goce Delcev University, Stip, Macedonia
Keywords:
introversion, teaching forms, methods, techniques, EFL
Abstract
The forms and methods of teaching used by teachers of EFL have a direct effect over the students' learning process and their final achievements. The way that students will accept a certain teaching style depends on their own behaviour and personality as well as the teacher's ability to successfully manage and conduct the forms and methods of teaching. In this paper I define different types of forms, methods and techniques used in Secondary schools in North Macedonia, and I emphasize some that have become very widely accepted and used. Furthermore, I list some disadvantages that these popular forms, methods and techniques of teaching have over introverted students. Finally, I elaborate on the most adequate forms and methods of teaching English as a foreign language that will enable the teacher to successfully include and engage introverted students, and to be satisfy the needs of the other students as well.
References
Cain, Susan. (2012). Quiet : the power of introverts in a world that can't stop talking. New York : Random House, Inc.
Condon, M & Ruth-Sahd, L. (2013). Responding to introverted students: Best practice guidelines for educators and advisors. Open journal of Nursing, 3, 503-515. http://dx.doi.org/10.4236/ojn.2013.37069
Jung, Carl (1995). Memories, Dreams, Reflections, London: Fontana Press.
Gogoska, L. (1995). Didaktika. [Didactics] Skopje: Zvezda.
Gilles, R. M. (2016). Cooperative Learning: Review of Research and Practice. Australian Journal of Teacher Education, 41(3), 39-54. http://dx.doi.org/10.14221/ajte.2016v41n3.3
Gudinge,m J. (2018). Cooperative Learning: A teacher Perspective. [Degree project]. Malmo: Malmo University Electronic Publishing. https://muep.mau.se/handle/2043/25027
Iscan, A. (2017). The Use of Eclectic Method in Teaching Turkish to Foreign Students. Journal of Education and Practice, 8 (7), 149-153. https://eric.ed.gov/?id=EJ1137580
Laney, M. O. (2002). The introvert advantage: How to thrive in an extrovert world. Workman Publishing.
Singh, Y.P., Agrawal, A. (2011). Introduction to co-operative learning. Indian Streams Research Journal, 1 (2), 1-9. https://www.researchgate.net/publication/270494960_INTRODUCTION_TO_COOPERATIE_LEARNING
Smith, J. Guimond, F-A., Bergeron, J., St-Amand, J., Fitzpatrick, C., Gagnon, M. (2021). Changes in Students'Achievement Motivation in the Context of the COVID-19 Pandemic: A Function of Extraversion/Introversion? Education Sciences. 11 (30), 1-8. https://doi.org/10.3390/educsci11010030
Markova, Z. (2020). Future EFL Teachers'attitudes toward self-assessment. Orbis Linguarum, 18, (2). 64-72. https://doi.org/10.37708/ezs.swu.v18i2.8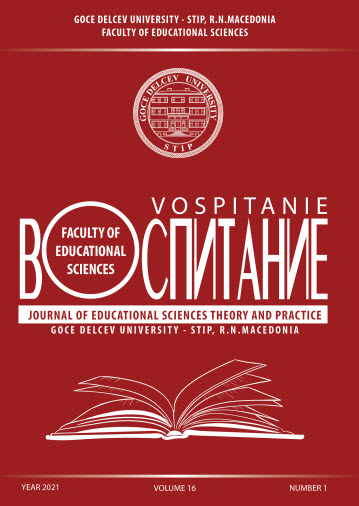 Copyright (c) 2021 Воспитание / Vospitanie - Journal of Educational Sciences, Theory and Practice
This work is licensed under a Creative Commons Attribution 4.0 International License.