THE TRAGIC ACTION OF "FURIOUS": MEDEA BY CORNEILLE AND ITS ANCIENT SOURCES
Abstract
The French drama is profoundly inspired by the Greek and Roman theatre, especially by Seneca's works read avidly by the pre-classical authors. In that way the tragedy has evolved in its structure and in its aesthetics, in its characters and especially in the tragic action. Thus, the Greeks by the awakening of the inhuman side of a person defined the tragic action of the monstrous myths where Fate is unchangeable and people are only its victims; Romans did not show people but "furious" that project out of civilization and humanity. The French Humanists and the Preclassicists, liked repeating the same characters because of their reputation and their nobility, and especially because of their exemplary torments.          
                According Florence Dupont, the protagonists of the pre-classical tragedies in ancient or mythological subject are classified into furious-executioners furious-victims and mere mortals. The furious are those who by their character and role do the tragic action that is the case of Medea, the protagonist of the eponymous play by Corneille.
                In order to understand well Medea by ​​Corneille, our study will compare this seventeenth century furious - a proud, energetic, conscious, intelligent, but above all human – with the ancient furious, Medea by Seneca and that of Euripides. The comparison of these versions will highlight the treatment of characters and the dramatic action, therefore, in order to better understand the evolution of the tragic aesthetic over time.
Downloads
Download data is not yet available.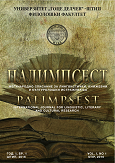 How to Cite
Petrova, S. (2016). THE TRAGIC ACTION OF "FURIOUS": MEDEA BY CORNEILLE AND ITS ANCIENT SOURCES. PALIMPSEST / ПАЛИМПСЕСТ, 1(2), 83-91. Retrieved from https://js.ugd.edu.mk/index.php/PAL/article/view/1742
Section
КНИЖЕВНОСТ/ LITERATURE