THE FAMILY IN SABIT YUSUF'S "KÖTÜ YÜREKLİ OLAN KİMDİR?" STORY
Mahmut Celik

Alirami İbraіmі
Abstract
In this study, one of Sabit Yusuf's stories, "Kötü Yürekli Olan Kimdir?", has been examined in terms of the importance of family members knowing each other better. In the introductory part of the story the author introduces some people talking ill of others and gossip. In the main part, the child's struggle to know more about his father is depicted. In the conclusion the happiness within the family is expressed.
The story consists of gossip made in daily life. The main lesson in the story is the evil of careless talking and gossiping. The author tells us the results of the words that are spoken without thinking. He warns us that you cannot say everything everywhere. The story also describes the evil in speaking badly about the families we don't know about, and how this will bring bad results. Because after exploring it may be concluded that those that we might consider evil might actually be good people.
Downloads
Download data is not yet available.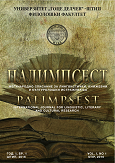 How to Cite
Celik, M., & İbraіmіA. (2016). THE FAMILY IN SABIT YUSUF'S "KÖTÜ YÜREKLİ OLAN KİMDİR?" STORY. PALIMPSEST / ПАЛИМПСЕСТ, 1(2), 99-105. Retrieved from https://js.ugd.edu.mk/index.php/PAL/article/view/1744
Section
КНИЖЕВНОСТ/ LITERATURE