AUTHENTICITY AND PRIDE OF VERNACULAR SETTLEMENTS IN MACEDONIA
Ekaterina Namiceva

Petar Namicev
Abstract
The settlements gradually loose the strong traditional panorama, therefore today only small parts that we can preserve that represents some kind of "historical reminiscence" are left. Identification of population with vernacular architecture is one of the most important needs for understanding the cultural and historic power of the nation. Taking care of the preservation regarding the traditional settlements needs to be exercised through certain steps in the form of initiatives undertaken by the Ministry of Culture, by private owners, local authorities in order the ambient characteristics to be preserved and to be maintained the condition of certain parts from the historic urban cores. The way to keep authenticity and make a better visual impression of vernacular settlements is through maintaining annual traditional manifestations, making connections between the historic monuments, complexes, with museum networks and other cultural institutions, by giving support to private owners, nurturing the long term cultural politics, application of various measures of interventions on certain complexes of monuments, stimulating development of weekend neighborhoods with authentic appearance and intensive public awareness and education of the population.
                Identification of the population with vernacular architecture is very important and has big influence on the preservation of its authenticity and its incorporating in contemporary architecture. We must harmonize the language of high culture and the language of national tradition by understanding the space, way of building, in which the building process is different in rural and urban settlements.
Downloads
Download data is not yet available.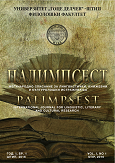 How to Cite
Namiceva, E., & Namicev, P. (2016). AUTHENTICITY AND PRIDE OF VERNACULAR SETTLEMENTS IN MACEDONIA. PALIMPSEST / ПАЛИМПСЕСТ, 1(2), 143-156. Retrieved from https://js.ugd.edu.mk/index.php/PAL/article/view/1748