DEFINITION AND CLASSIFICATION OF PHRASEOLOGICAL EXPRESSIONS AND PROBLEMS OF IDIOMATIC EQUIVALENCE IN TRANSLATION
Milena Sazdovska-Pigulovska
Abstract
This paper deals with two issues – review of established classifications of phraseological expressions as well as specificities of translation related to their transferred meaning. In the first part of the paper, a theoretical basis is provided for systematic classifications of phraseological expressions on the basis of different approaches and underlying criteria, while at the same time providing valuable insight into the main characteristics that define each specific type of phraseologisms. Furthermore, another aim of this paper is to discuss the type of meaning they convey, and to identify the main problems related to translation of phraseological expressions from English into Macedonian, which are connected to their defining and cultural characteristics. Although phraseological expressions are often used in conversational context due to their figurative meaning, they enjoy broad usage from colloquial to professional settings, so their use ranges from informal to semi-formal and from universal to culture-specific. The author identifies three main difficulties when translating phraseological expressions, such as maintaining a sufficient degree of idiomaticity in the target language, preserving idiomatic equivalence and respecting the cultural particularities and differences in English and Macedonian. One of the main goals of this paper is to discuss concepts of idiomaticity and equivalence with special focus on the different forms of idiomatic equivalence. On the basis of a comparative analysis of English and Macedonian examples, the author of this paper draws conclusions on the most suitable method for translation of phraseological expressions and suggests adequate translation strategies which point the translator in the right direction at the crossroads between literal and idiomatic translation.
Keywords: phraseological expressions, (idiomatic) equivalence, idiomatic translation method, translation strategies.
Downloads
Download data is not yet available.
References
Cyrillic
Арсова-Николиќ, Л. (1999). Преведување: теорија и практика. Универзитет "Св, Кирил и Методиј", Скопје
Бојковска, Е. (2016). "Предизвици при преведувањето фразеологизми". Зборник на трудови од меѓународната научна конференција "Зборот збор отвара", Филолошки факултет – Скопје
Велјановска, К. (2006). Фразеолошките изрази во македонскиот јазик: со сврт на соматската фразеологија. Македонска ризница, Куманово
Мургоски, З. (2002). Македонско англиски речник на идиоми. Трето издание. Филолошки факултет – Скопје
Latin
Baker, M. (2018). In Other Words: A Textbook on Translation. Third Edition. Routledge, London
Croft, W. (2002). Typology and Universals. Cambridge University Press
Dadyan, I. (2015). "On the Study of Idioms and the Problem of Their Equivalence". Yerevan State University; Retrieved from http://publications.ysu.am/
Dribniuk, V. (2007). "Classification Principles of Phraseological Units". Russian Archive of Scholarly Publications – Education and Science; Retrieved from http://www.rusnauka.com/
Gjurcevska-Atanasovska, K.; Sazdovska-Pigulovska, M. (2017). "When Translation Goes Wrong: Translating phraseological expressions". Faculty of Philology – Skopje
Guliyeva, K. V. (2016). "Different Approaches to the Objects of Phraseology in Linguistics". International Journal of English Linguistics, Vol. 6., No. 4, Canadian Center of Science and Education ISSN 1923-869X E-ISSN 1923-8703
Jandt, F. (2010). An Introduction to Intercultural Communication: Identities in a Global Community. Sixth Ed. Sage Publications Inc.
Koller, W. (2004). Einführung in die Übersetzungswissenschaft. 7 Aufl. Quelle & Meyer
Koonin, A. V. (1981). English Phraseology. Theoretical Course. Moscow: Science
Larson, M. (1984). Meaning-Based Translation: A Guide to Cross-Language Equivalence. New York: University Press of America
Newmark, P. (1998). A Textbook of Translation. Longman
Nida, E. (1964). Towards a Science of Translating. Brill Archive
Nikolenko, A. G. (2007). English Lexicology: Theory and Practice. Vinnytsya National Technical University, Nova Kniga ISBN 978-966-382-076-7
Nord, C. (2018). Translating as a Purposeful Activity: Functionalist Approaches Explained. Second Ed. Routledge
O'Dell, F.; McCarthy, M. (2017). English Idioms in Use (Advanced). Second Ed. Cambridge University Press
Vega Moreno, R. (2007) Creativity and Convention: The Pragmatics of Everyday Figurative Speech. John Benjamins
Vinogradov, V. V. (1986). On the main types of phraseological units in the Russian language. Moscow: Science; Retrieved from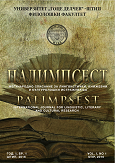 How to Cite
Sazdovska-Pigulovska, M. (2020). DEFINITION AND CLASSIFICATION OF PHRASEOLOGICAL EXPRESSIONS AND PROBLEMS OF IDIOMATIC EQUIVALENCE IN TRANSLATION. PALIMPSEST / ПАЛИМПСЕСТ, 5(9), 15-28. https://doi.org/10.46763/palim2090015sp