ORGANIZATION OF ONLINE LANGUAGE AND TRANSLATION TEACHING AND EXAMINATION IN TIMES OF COVID-19
Milena Sazdovska-Pigulovska
Abstract
The global Covid-19 pandemic marked the beginning of a new era in the field of education. On the one hand, it shed light on the flaws of the existing educational systems in many countries across the world. On the other hand, the new reality created space for educational improvements, which resulted in tremendous methodological and organizational changes and novelties. Furthermore, technological advancement contributed to the advent of technology in education, hence technology is nowadays a constituent part of both teaching and learning. The shift from traditional to online education opened the doors for use of e-learning platforms in the academic environment, for creation of virtual classrooms as well as for digital collaboration, whereas the latter is particularly important in language and translation teaching. This paper deals with different aspects related to the organization of online teaching and examination after the start of the global Covid-19 pandemic. The author provides an overview of the most commonly used platforms for educational and assessment purposes, which are particularly applicable in language and translation teaching and examination as well as crucial for future organization of education in the digital era. The main goal of this paper is to define and discuss the concept of language management systems (LMS), to emphasize the advantages and drawbacks of currently applied practices and to suggest ways to improve future online teaching and examination in the field of language and translation at all philological faculties in North Macedonia.
Keywords: distance learning, online exams, language and translation, educational ecosystem, learning management system.
Downloads
Download data is not yet available.
References
Latin
Alvite, L., Barrionuevo, L. (2010). Libraries for Users: Services in Academic Libraries. First Ed. Chandos Publishing, Oxford.
Davis, B., Carmean, C., & Wagner, E. (2009). The Evolution of the LMS: From Management to Learning. The E-Learning Guide Research, Retrieved from:
file:///C:/Users/user/Downloads/guild-lmsreport_new.pdf
Ellis, R. K. (2009). A Field Guide to Learning Management Systems. American Society for Training and Development, ASTD Inc., Retrieved from:
https://web.csulb.edu/~arezaei/ETEC551/web/LMS_fieldguide_20091.pdf
Hillier, M., Grant, S., & Coleman M. (2018). Towards authentic e-Exams at scale: robust networked Moodle. Learning without borders. Proceedings ASCILITE 2018 Geelong (pp. 131-141). Retrieved from: https://www.academia.edu/37952369/Towards_authentic_e_Exams_at_scale_robust_networked_Moodle
Ramaiah, C. K. (2020). What is the best method of conducting examination during the Covid 19 period? Retrieved from: https://www.researchgate.net/post/What-is-the-best-method-of-conducting-examination-during-the-Covid-19-period

Websites
Panel Discussions Website of the Faculty of Philology in Skopje
https://coda.io/d/_d_E7zCctFNy/_suzcx#_luVxs
United Nations Organization
https://en.unesco.org/news/digital-skills-critical-jobs-and-social-inclusion
Digital Exam Platform https://exam.net/
Website on video-conferencing software https://www.g2.com/categories/video-conferencing
Microsoft Teams Platform
https://www.microsoft.com/en-ww/microsoft-teams/group-chat-software
Moodle Platform
https://moodle.org/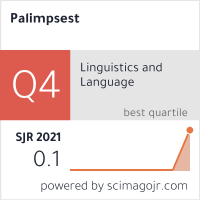 How to Cite
Sazdovska-Pigulovska, M. (2021). ORGANIZATION OF ONLINE LANGUAGE AND TRANSLATION TEACHING AND EXAMINATION IN TIMES OF COVID-19. PALIMPSEST / ПАЛИМПСЕСТ, 6(11), 261-272. https://doi.org/10.46763/PALIM21116261sp
Section
МЕТОДИКА НА НАСТАВАТА / TEACHING METHODOLOGY