METAPHORICAL CONCEPTS OF SOMATIC EXPRESSIONS IN GERMAN AND MACEDONIAN PHRASEOLOGY
Emilija Taseva

Biljana Ivanovska
Abstract
This paper presents an analysis of certain phraseological expressions that contain parts of the human body as the main component. With the help of comparative analysis, we try to explain their use in different language environments, primarily according to the metaphorical concept. Despite the large and rich selection of phrases and phraseological expressions, we analyze somatic phrases remarkable in their structure for our analysis. The analysis of phraseological expressions in both languages, Macedonian and German, is performed according to the classification of phrases according to Bergerova (2005) and in terms of the degree of equivalence according to Brown and Krallmann (1990). We analyze the idioms which contain the parts of the human body: heart, head, and hand, to present the similarities and differences in the language pair of Macedonian and German. The discussed phraseological expressions are excerpted from certain works, novels, dictionaries, parts of the bible, etc. Applying the conceptual method of analysis, the idioms are divided into thematic and semantic fields. Most of the noted idioms (heart, hand, head) reflect the human being - his/her personal and intellectual characteristics, physical appearance, feelings, etc. Very rarely they certainly reflect other meanings in the language, which were also presented in this paper.
Keywords: idioms, somatic expressions, phraseological expressions, language pair German-Macedonian, metaphorical concepts.
Downloads
Download data is not yet available.
References
6.1. На кирилица
1. Бачиќ Алимпиќ, J. (2017). Те нема никаде. Печатено во Македонија: Клуб Матица.
2. Бошковиќ, К. & Илиевска, С. (2011). Македонски јазик и литература за IV година Средно стручно образование. Скопје: Министерство за образование и наука за Република Македонија.
3. Бјелица, И. /Хисмајер, Ј. (2018). Помагајте пријателки. Скопје: ПРОСВЕТНО ДЕЛО.
4. Велјановска, К. (2006). Фразеолошките изрази во македонскиот јазик со осврт на соматската фразеологија. Куманово: Македонска ризница.
5. Велковска, С. (2002). Белешки за македонската фразеологија. Скопје: Институт за македонски јазик "Крсте Мисирков".
6. Иљоски, В. (2005). Чорбаџи Теодос. Скопје: Просветно дело АД-Скопје, редакција "Детска радост".
7. Иљоски, В. (1986). Бегалка. Скопје: Мисла, Македонска култура, Наша книга.
8. Ташова, В. (2015). Македонски јазик. Скопје: Институт за македонски јазик "Крсте Мисирков".
9. Ќулавкова K. (1984). Фигуративниот говор и македонската поезија. Скопје: Наша книга.

6.2. Речници на кирилица
1. Грчева, Ранка/Рау, Петер (2006). Голем македонско-германски, германско-макеоднски речник. Скопје: Магор.
2. Толковен речник на македонскиоt јазик том I, (А–Ж) (2003). Редакција: С. Велковска, К. Конески, Ж. Цветковски. Скопје: Институт за македонски јазик "Крсте Мисирков".
3. Толковен речник на македонскиот јазик том III, (Л-О) (2006). Ред. Кирил Конески. Скопје: Институт за македонски јазик "Крсте Мисирков".
4. Толковен речник на македонскиот јазик том V, (Р–С) (2011). Гл. Редактор Кирил Конески; ред.: Снежана Велковска, Кирил Конески, Живко Цветковски. Скопје: Институт за македонски јазик "Крсте Мисирков".
5. Димитровски, Т., Ширилов, Т. (2003). Фразеолошки речник на македонскиот јазик (том прв). Скопје: Огледало.

6.3. Латиница
1. Apostelgeschichte (revidiert 2017). Deutsche Bibelgesellschaft, Stuttgart. Die Bibel nach Martin Luthers Übersetzung.
2. Beer J. (1957). Jucundi Jucundissimi Wunderliche Lebens – Beschreibung. Rowohlt. Hamburg.
3. Bergerová, H. (2005). Einführung in die deutsche Phraseologie: Ein Reader, Aufgaben- und Übungsbuch, Ústí nad Labem: Univerzita J.E. Purkyně, 2005, 84 S., ISBN 80-7044-690-0.
4. Braun, P. & Krallmann, D. (1990). "Inter-Phraseologismen in europäischen Sprachen" in: Braun, P./Schaeder, B./Volmert, J. (Hg.): Internationalismen. Studien zur interlingualen Lexikologie und Lexikographie. Tübingen: 74-86.

6.4. Речници на латиница
1. DUDEN (1998). Redewendungen und sprichwörtliche Redensarten.Wörterbuch der deutschen Idiomatik. Bearb. v. G. Drosdowski u. W. Scholze- Stubenrecht. Mannheim.

6.5. Веб-страници
1. Дигитален речник на македонскиот јазик (2020). Преземено на 20 октомври 2020 г. http://www.makedonski.info/.
2. Македонски јазик (2020). Преземено на 20 октомври 2020 г. https://makedonskijazik.mk/.
3. DUDEN (2020). Преземено на 20 октомври 2020 г. https://www.duden.de/.
4. Redensarten-index (2020). Преземено на 20 октомври 2020 г. https://www.redensarten-index.de/suche.php?suchbegriff=kopf&bool=relevanz&gawoe=an&sp1=rart_varianten_ou&page=5.; https://deutschlernerblog.de/zwei-linke-haende-haben-redewendungen-und-redensarten-90/

6.6. Користени кратенки во текстот
1. ТРМЈ - Толковен речник на македонскиот јазик.
2. ДРМЈ - Дигитален речник на македонскиот јазик.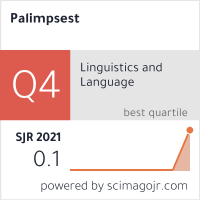 How to Cite
Taseva, E., & Ivanovska, B. (2021). METAPHORICAL CONCEPTS OF SOMATIC EXPRESSIONS IN GERMAN AND MACEDONIAN PHRASEOLOGY. PALIMPSEST / ПАЛИМПСЕСТ, 6(11), 73-84. https://doi.org/10.46763/PALIM21116073t