REVIEW OF THE BOOK "PRAGMATICS: LANGUAGE AND COMMUNICATION"
Abstract
Тhis paper focuses on the significance and the structure of the book "Pragmatics: Language and Communication" written by the authors Marija Kusevska and Eleni Buzarovska. The book is intended not only for those who show interest in the linguistic field of pragmatics, but also for those who show interest in the language and communication, too. The content of the book is presented in 240 pages, divided mainly into ten basic chapters: Introduction, Communication, Context and Presupposition, Reference and Deixis, Cooperative Principles and Implicit Meaning, Principles of Politeness, Speech Acts, Directness and Indirectness, Conversational Analysis, Discourse Markers, Discourse Analysis, Intercultural and Intracultural Pragmatics, and References. The significance of this book is enormous - it presents the experiences of the authors not only from their teaching practice, but also their life experience gained through education and their professional stays in English and American speaking countries.
Keywords:  pragmatics, language, communication, speech acts, perspectives.
Downloads
Download data is not yet available.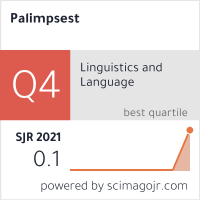 How to Cite
Ivanovska, B. (2021). REVIEW OF THE BOOK "PRAGMATICS: LANGUAGE AND COMMUNICATION". PALIMPSEST / ПАЛИМПСЕСТ, 6(11), 287-290. https://doi.org/10.46763/PALIM21116287i
Section
ПРИКАЗИ / BOOK REVIEWS