THE METAPHOR IN THE NOVEL "THE MATHEMATICIAN'S DAUGHTER" BY VENKO ANDONOVSKI
Boban Pereski

Ranko Mladenoski
Abstract
The purpose of this paper is to locate, analyse and present the metaphor as a figure of speech. Our subject of analysis in this paper is the novel "The Mathematician's Daughter" (2013) by the Macedonian writer Venko Andonovski. In fact, we will first present and analyse specific examples of metaphor in the novel, which are very significant both stylistically and semantically, i.e. we will clarify their meaning in a given context. Given the fact that our subject of analysis in this paper is a novel that has two different stories (two novels) that happen to share the same ending, we begin with an analysis of the metaphors in the Great book, which consists the Editor's Foreword with an important reading guide and the first part entitled The Book of Innocence, and then, in addition to this, we proceed with our analysis to the metaphors in the Little Book, where the second part of the novel takes place, entitled The Book of Crucifixion. The final and common ending part of the two books is entitled The Book of Resurrection.
Keywords: novel, metaphor, analysis, semantics, "The Mathematician's Daughter".
Downloads
Download data is not yet available.
References
1. Андоновски Венко (2011). Ќерката на Математичарот. Скопје: Три.
2. Минова-Ѓуркова Лилјана (2003). Стилистика. Скопје: Магор.
3. Младеноски Ранко (2014). Теорија на поезијата. Штип: Универзитет "Гоце Делчев".

*
4. Solar Milivoj (2005). Teorija književnosti. Zagreb: Školska knjiga.
5. https://www.reper.net.mk/2014/05/13/tatkoto-na-crvenokosata/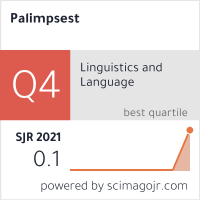 How to Cite
Pereski, B., & Mladenoski, R. (2021). THE METAPHOR IN THE NOVEL "THE MATHEMATICIAN'S DAUGHTER" BY VENKO ANDONOVSKI. PALIMPSEST / ПАЛИМПСЕСТ, 6(11), 147-159. https://doi.org/10.46763/PALIM21116147p
Section
КНИЖЕВНОСТ/ LITERATURE