A LABYRINTH OF LITERARY FICTION AND LIFE REALITY
Ranko Mladenoski

Boban Pereski
Abstract
The subject of this short review is the literary-theoretical and literary-critical analysis and interpretation of "Always with Me" by the literary debutant Nikolina Kostovska.  It is a contemporary Macedonian novel published this year (2021) and within its structure the author leads us through a labyrinth of three interconnected stories that are presented in three narrative units of the novel: "Prologue", "First Part" and "Second part". This narrative labyrinth in the novel is realized with a postmodernist game in which the boundaries between fiction and faction are relativized through three narrative units in its content: fiction in fiction, fiction as literary reality and fiction as life reality. In this review, the stated specifics of the novel will be analyzed in details, which will show that "Always with Me" by Kostovska is a successful and significant novelistic achievement in Macedonian contemporary literature.
Keywords: novel, Nikolina Kostovska, fiction in fiction, post-modernistic prose, Macedonian contemporary literature.
Downloads
Download data is not yet available.
References
1. Амон Филип (1996). За еден семиологиски статус на ликот. Во: Теорија на прозата. Избор на текстовите, превод и предговор Атанас Вангелов. Скопје: Детска радост.
2. Костовска Николина (2021). Секогаш со мене. Скопје: Академски печат.
*
3. Rečnik književnih termina (1991). Beograd: Institut za književnost i umetnost u Beogradu; Banja Luka: Romanov.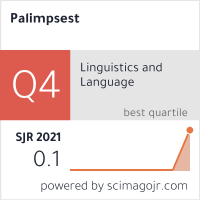 How to Cite
Mladenoski, R., & Pereski, B. (2021). A LABYRINTH OF LITERARY FICTION AND LIFE REALITY. PALIMPSEST / ПАЛИМПСЕСТ, 6(11), 291-297. https://doi.org/10.46763/PALIM21116291m
Section
ПРИКАЗИ / BOOK REVIEWS