MARIJA ZRNEVA'S STORYTELLING PEN
Abstract
This text refers to Marija Zrneva from Voden and her writing published in the newspaper  Novini. The untitled text was published in 1898 and describes the fire in the town of Voden, in chronological order, since its beginning, the fight against the fire and the successful extinguishing. According to the manner and style of the published work, as well as the structural elements of the literary narrative text, we believe that we can characterize it as the first registered Macedonian short story written by a woman, and her as the first registered author of a short story in Macedonian literature.
Keywords: Marija Zrneva, Voden, short story, 19th century, newspaper Novini, newspaper Vesti, newspaper Makedonska Dzvezda.
Downloads
Download data is not yet available.
References
Зографов, Х. (1981). 'Прошедба' од Рајко Жинзифов (содржина и кратка анализа). Во: Рајко Жинзифов, Одбрани творби, прир. Гане Тодоровски. Скопје: Мисла.
Зьрнева, М. Хр. (1898) Дописки. Во: Новини, брой 92. Цариградъ.
Ковилоски, С. (2018). Македонското женско творештво во XIX век. Скопје: Институт за македонска литература.
Младеноски, Р. (2012). Наратологија. Штип: Филолошки факултет, Универзитет "Гоце Делчев".
Наша поща. (1909). Македонска звѣзда, мѣсечно илюстровано списание за дѣца, книжка VI.
Прѣписка. (1907). Во: Вѣсти, брой 10. Цариградъ.
Спасов, А. (2006). Рајко Жинзифов, живот и книжевна дејност. Скопје: Филолошки факултет "Блаже Конески".
Тоциновски, В. (2009). Расказот во македонскиот 19 век. Скопје: Институт за македонска литература.
Ќулавкова, К. (2001). Мала книжевна теорија. Скопје: Три.
Ќулавкова, К. (прир.). (2007). Поимник на книжевната теорија. Скопје: МАНУ.
Я-ва, Е. (1898). Дописки. Во: Новини, брой 73. Цариградъ.

*
Ferguson, S. C. (1982). Defining the Short Story: Impressionism and Form. Во: Modern Fiction Studies, Vol. 28, No. 1.
Solar, M. (2005). Teorija književnosti. XX. izdanje. Zagreb: Školska knjiga.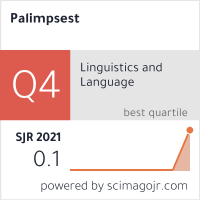 How to Cite
Koviloski, S. (2021). MARIJA ZRNEVA'S STORYTELLING PEN. PALIMPSEST / ПАЛИМПСЕСТ, 6(11), 183-190. https://doi.org/10.46763/PALIM21116183k
Section
КНИЖЕВНОСТ/ LITERATURE