BLAZHE KONESKI AS A PAINTER
Abstract
In the paper we refer to Blazhe Koneski's interest in painting, in his first attempts to try in the world of art. We trace his connection with painting from the earliest years until his adulthood. We categorize his interest in painting in two groups: first, by following the frescoes in the monastery of St. Archangel Michael in Varos (Prilep), the portrayal of Lazar Lichenoski and the opening of the exhibition of Cane Sekuloski, and secondly, as an author who transforms nature, paintings and frescoes into literary works. Hence our perception of Koneski as a painter in literature.
Keywords: Blazhe Koneski; Nebregovo; painting; frescoes; nature; poetry.
Downloads
Download data is not yet available.
References
Андреевски, Ц. (1991). Разговори со Конески. Скопје: Култура.
Ковилоски, С. (2018). Родниот крај како инспирација за Блаже Конески. Спектар, бр. 72.
Конески, Б. (1967). Поезија. Скопје: Култура.
Конески, Б. (1980). Песни и поеми. Скопје: Македонска книга, Мисла.
Конески, Б. (1990а). Ликови и теми. Скопје: Култура.
Конески, Б. (1990б). Проза. Скопје: Култура.
Конески, Б. (1993). Светот на песната и легендата. Скопје: Гоце Делчев.
Лотман, Ј. М. (2005). Структурата на уметничкиот текст. Скопје: Македонска реч.
Мартиновски, В. (2012). Дијалогот на Блаже Конески со средновековниот фрескопис. Филолошки студии, бр. 10.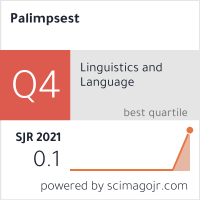 How to Cite
Koviloski, S. (2021). BLAZHE KONESKI AS A PAINTER. PALIMPSEST / ПАЛИМПСЕСТ, 6(12), 89-95. https://doi.org/10.46763/PALIM21612089k
Section
КНИЖЕВНОСТ/ LITERATURE