MONETARY POLICY EFFECTIVENESS, AND SOME EXPLANATIONS OF UNEMPLOYMENT, FAIR WAGES AND FAIR PRICES IN A GENERAL EQUILIBRIUM SETTING
Dushko Josheski

Tatjana Boshkov
Abstract
This paper argues that monetary policy matters in short-run and that it affects unemployment, and prices and wages in near-rational firms. Those profit-maximizer firms are adjusting prices
in accordance with consumer expectations and wages are set to be fair accordingly to the workers expectations. This is in exercise is all happening in New Keynesian dynamic stochastic
general equilibrium setting which shall be compared to a Real business cycle model with technology shocks.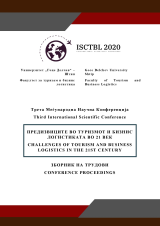 Section
Business logistics and Business administration