ЧОВЕЧКИОТ КАПИТАЛ – ФАКТОР ЗА ГРАДЕЊЕ КОНКУРЕНТСКА КОМПАНИСКА ПРЕДНОСT
Драшко Атанасоски

Емануела Есмерова
Abstract
The human capital has always been factoring for society`s growth, but is also a crucial factor in today's competitive and propulsive global economy based on knowledge. In unstable
business environment, comparative advantages of the companies are only temporary. In that context, people of the company are basic resource for permanent competitiveness.
The human capital as a resource is composed of individual and collective knowledge, expertise and experiences, creativity and innovation, competences and capabilities i.e. the whole
developing capacity of the people in the company for providing good business results. In the five M`s factors of production (5M: man, machines, money, materials and management), the
human capital is the center without the company cannot function effectively. The contemporary view of the market success of the companies is connected with the concept
of strategic competitiveness. Nowadays all managers admit that the process of gaining comparative advantage and good business and market success is based on human capital, so
its development is true challenge for the leaders in formulating competitive strategy. The business environment which is characterized by suddenly changes, for achievement of
comparative advantage, the role of the human capital in company is bigger than ever, and the gaining, development and sustained human capital can be main source of sustained company`s competitiveness.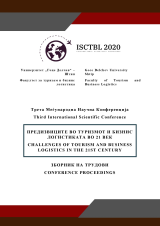 Section
Business logistics and Business administration