МЕНАЏМЕНТОТ НА ЗНАЕЊЕ ВО МОДЕРНАТА ЕКОНОМИЈА
Емануела Есмерова

Драшко Атанасоски
Abstract
Managers are persons decorated with intellectual capabilities, reasonable, smart, and professional qualities that derive of the reason or refer on it by the process of knowledge. The
manager should be versatile person, to know people, their motivation and their ability, and also to be rich in knowledge and skills to resolve interpersonal problems, conflicts, working in
groups and effective communicator. Technical pragmatism includes the effective skill, dexterity and ability of the manager to achieve success in the enterprises. Knowledge management and the transfer of knowledge are a new way of thinking and sharing of intellectual and creative resources in enterprises. It concerns the efforts of systematic thinking, organization and
accessibility to intellectual system findings and fostering a culture of continuous learning and transmission of the knowledge.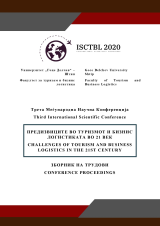 Section
Business logistics and Business administration