DIGITAL MARKETING AND ITS IMPORTANCE DURING THE PANDEMIC
Natasha Miteva

Dushica Popova

Aco Kuzelov
Abstract
Marketing plays enormous role in every competitive business, every day of its operation. The
economic crisis and world pandemic situation we are facing nowadays have strengthened its
impact on companies, customers and sales. Furthermore, it became a desperate need for
survival for the businesses, no matter how big or small. This paper outlines the importance of
digital marketing and the effect on audience, presence, sale, growth, and employment. It gives
an in depth understanding of how with the use of digital marketing tactics, the businesses can
sustain and grow their customer relationship, earn loyalty, and create sustainable image.
Taking all these steps towards success, at the same time benefiting from low cost and time wise
strategies, businesses are learning, implementing and using each possible aspect of digital
marketing in order to succeed during the difficult situation they are facing today.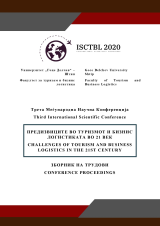 Section
Business logistics and Business administration