EMPOWERNMENT OF WOMEN: CHALLENGES AND OPPORTUNITIES IN THE MODERN WORLD
Aneta Stojanovska-Stefanova

Marija Magdinceva-Sopova

Hristina Runcheva-Tasev
Abstract
The paper will give an informative overview of the importance of gender equality as a pillar of
global development and overview of the empowerment of women in the modern world. The
article will also make analysis about the biggest challenge facing women internationally today.
Achieving gender equality and women's empowerment is integral of the United Nations 2030
Agenda for Sustainable Development and to each of its 17 Sustainable Development Goals
adopted by world leaders in 2015. According to UN there has been progress over the last
decades: more girls are going to school, fewer girls are forced into early marriage, more
women are serving in parliament and positions of leadership, and laws are being reformed to
advance gender equality. Despite these gains many challenges remain.
Authors conclude that gender equality is not only a fundamental human right, but a necessary
foundation for a peaceful, prosperous and sustainable world. The gender discrimination still
holding too many women back, holds our world back too. Only by ensuring the rights of women
and girls across all the goals will we get to justice and inclusion, economies that work for all,
and sustaining our shared environment now and for future generations.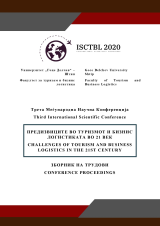 Section
Business logistics and Business administration