A MODERN APPROACH TO PROCESS MANAGEMENT WITHIN THE MACEDONIAN INSURANCE COMPANY
Elizabeta Mitreva

Горан Стојановски
Abstract
The aim of the paper is to achieve and realize the planned sales objectives of Eurolink Insurance
AD Skopje by applying the methods for quality improvement which are in the direction of
continuous improvements of the activities in the sales network. The benefits are in the direction
of achieving more dynamic development and better planning of marketing activities for proper
market assessment. The results of the analyzes obtained are used for proper decision making,
creating better pricing strategies and for more secure placement of new insurance products. In
addition, with the application of these methods, the company has the opportunity to more easily
detect the needs and expectations of customers, to reveal its weaknesses, to improve its
productivity and to expand its market share.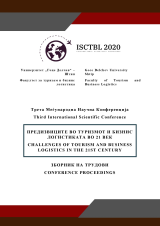 Section
Business logistics and Business administration