THE IMPACT OF PRICE MANAGEMENT ON BUSINESS ОPERATION OF THE ENTERPRISE: THEORETICAL ASPECT
Snezana Bardarova

Mimoza Serafimova
Abstract
Marketing strategy has been a focus of organizations and a tool for attaining overall firm
performance. Prices are crucial for the efficient operation of the company. Managers need
guidance on which organizational levers to activate in order to increase the effectiveness of the
pricing programs at their firms. Strategic pricing requires a stronger relationship between
marketing and the other sectors of a company. In order to enhance companies' economic and
financial performance, the pricing policies should be defined by their internal capacities and
on the basic systematical understanding of needs and wishes of their customers, in addition to
market conditions such as, economic conditions and degree of competition. In this context,
this paper will analyze a theoretical aspect and model that indicates the impacts of pricing
management (price policy and price strategies) on business operation of the enterprise.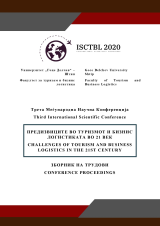 Section
Business logistics and Business administration