OVERVIEW OF NEOBANKS MODEL AND ITS IMPLICATIONS FOR TRADITIONAL BANKING.
Abstract
Traditional banks enjoyed a favourable position in the financial markets for many decades, as
the number of threats coming from outside the sector was almost non-existing. Nevertheless,
the changing landscape of the banking industry in the post crises period opens up the gates for
new entrants to become a significant disruption for the traditional banks. One such disruption
comes from neobanks which represent an institution operating under a new type of bank
business model.
This new model may be considered as the opposite of the existing banking models since it is a
fully online bank while conventional banks rely heavily on the physical presence through a
network of branches. Hence, the development of new ways for the creation and delivery of
financial products have some major implications for the traditional bank. These implications
predominantly can be found in the cost levels and cost structure, products and service delivery,
personalization of products and acquisition of new customers.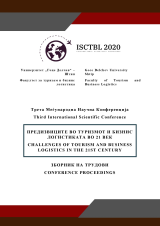 Section
Business logistics and Business administration