ГОЛЕМАТА РЕЦЕСИЈА 2007-2009 ВО САД
Љупчо Давчев

Александар Давчев
Abstract
In this paper we analyze the causes that led to the Great Recession 2007-2009. The 2007-2009
recession is one of the deepest recessions in economic history. The recession stems from a
major financial collapse in the US real estate market. The financial crisis has spilled over the
world and caused tectonic shifts in the functioning of economies in almost all countries, from
the most developed to the poorest.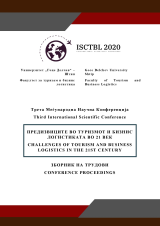 Section
Business logistics and Business administration