МОНЕТАРНАТА ПОЛИТИКА ВО СЛУЧАЈОТ НА ГОЛЕМАТА РЕЦЕСИЈА 2007-2009 ПРЕКУ ПРИМЕРОТ НА ФЕДЕРАЛНИТЕ РЕЗЕРВИ НА САД И ЕВРОПСКАТА ЦЕНТРАЛНА БАНКА
Александар Давчев

Љупчо Давчев
Abstract
If we go back in history, the number of World Economic Recessions is undoubtedly large. The
causes of crises are different. Modern Central Banks have at their disposal several
conventional instruments in response to economic crises: open market operations, required
reserves, and discount operations. But were they enough to overcome the recession?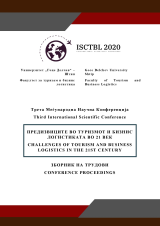 Section
Business logistics and Business administration