ВЛИЈАНИЕ НА ПЛАНИНСКИОТ ТУРИЗАМ ВРЗ ТУРИСТИЧКИОТ ПРОМЕТ ВО РЕПУБЛИКА СЕВЕРНА МАКЕДОНИЈА
Ана Здравковска Илиевска

Илија Закоски
Abstract
The possibilities for development of a mountain tourism in the Republic of Macedonia are multiple. The mountain tourist placed intrigue an increased level of interest of the foreign tourists, however, yet insufficient to be able to freely state that the same plays a significant role in the overall economy of the country.
The aim of this paper is to analyze the tourist turnover based on realized visits and accommodations of domestic and foreign tourists in the mountain places of the Republic of Macedonia in the period of 2009 until 2018, and their comparison with the tourist turnover on a country-level.
The tourist turnover from realized visits and accommodations in RM is increasing. The overall tourist turnover notes a higher percentage of domestic tourists, yet again, the number of foreign tourists is continuously rising.
The concept of the tourist development put in place in the last couple of decades has proven poor for most of the years, resulting in losing a significant portion of the international tourist market.
Key words: tourism, mountain, visits, accommodations, tourists, turnover.
JEL classification: L83, J63, Z32.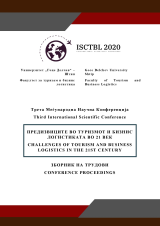 Section
Tourism, hospitality and gastronomy