КУЛТУРНИ И ВЕРСКИ СОДРЖИНИ ВО ТУРИЗМОТ НА ЛЕШОЧКИОТ МАНАСТИР
Abstract
The religious tourism is one of the oldest tourist movements important for the promotion of the spiritual and cultural values of a people. The Monastery in Leshok represents an orthodox monastery complex – the biggest in the region of Tetovo. This paper aims to present the cultural an religious content of the Monastery of Leshok, which further includes: the churches of St.Athanasius and the Virgin Mary; the marble cross built in honor of the Russian monks, who, at the beginning of the XX century emigrated from Russia to live in the monastery; the tomb and the memorial room dedicated to Kiril Pejchinovikj, one of the best-known revivalist writers form the XIX century. The Tetovo Folk Festival, in addition to the International Literary Translators Meet-Ups are hosted each year, thus enriching the tourist offering.
Key words: Leshok, monastery, tourism, religion, resources, culture, people
JEL Classification: L83, L32, Z12.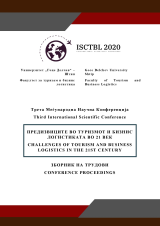 Section
Tourism, hospitality and gastronomy