HYPOTHESIS: TASSO'S RULE. THE IMPERFECT TENSE WITHOUT LABIODENTAL: -EA -EVA IN THE GIACOMO LEOPARDI'S CANTI
Abstract
This essay is inspired by Implicazioni leopardiane¸ written by Contini in 1947. This argumentation wants to prove the internalization of an hypothetical Tasso's rule in Giacomo Leopardi's poetry and to diachronically examine the workshop on his poetical language; a standardisation that would require a particular use of the imperfect verbal tense suffix in poetry, with or without the disappearance of the labiodental (-ea, -eva), which would follow a stabilized procedure:  «Aveva fra 'l verso, non seguente vocale, non s'usa dal Petrarca o da' petrarchisti» (Tasso, 1575). Through the examination of Leopardi's poetical lexis – also on autographs' reproductions – and an examination of the five exceptions included in his juvenile songs from 1816, L'Appressamento della morte, we want to prove that 1817 was the crucial year for this linguistic use – where Leopardi commits to a precise examination and study of all of Tasso's pieces and those about him. The only exception has been found in the line 63 of Canti's Frammento XXXIX, a partial rework on the Appressamento. Even if it is included in the 1835's Starita, it has been proved wrong by the Neapolitan autograph that would entirely confirm this use; however it has to be considered in order to presume that Tasso's hypothetical rule is at least a consolidated writing routine of the original Giacomo Leopardi, and Petrarchist sui generis. Through the accomplished linguistic analysis, we can confirm once more the thesis about Leopardi's poetry being an unicum sprung from Recanati's genius; that's the XIXth century's prolific germ able to absorb and reshape the lymph from the tradition's tree; therefore this is an innovating poetical language that doesn't provoke shocks, because it absorbs and restores Petrarch's and Tasso's standards.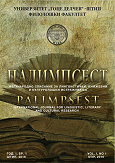 How to Cite
VENUTO, Pierino. HYPOTHESIS: TASSO'S RULE. THE IMPERFECT TENSE WITHOUT LABIODENTAL: -EA -EVA IN THE GIACOMO LEOPARDI'S CANTI.
PALIMPSEST / ПАЛИМПСЕСТ
, [S.l.], v. 2, n. 3, p. 79-88, may 2017. ISSN 2545-3998. Available at: <
http://js.ugd.edu.mk/index.php/PAL/article/view/1870
>. Date accessed: 04 july 2020.