INTRA-VERBAL LEXICALIZATION OF TRANSITIVE FORMS IN KIRUNDI. THE CASE OF REFLEXIVE AND APPLICATIVE AFFIXES
Constantin Ntiranyibagira
Abstract
This article deals with the assessment of an aspect of Kirundi's morpho-syntax, namely the behavior of the reflexive and/or applicative affixes of derived lexicalized Kirundi verbs (whose lexicalization is based precisely on these two affixes.). The information was collected on the basis of verbal forms taken from a Kirundi corpus produced by Ferdinand Mberamihigo and Gilles-Maurice de Schryver (Ghent University, Belgium). This corpus, to which we contributed, consists of 563,888 tokens (number of words including those that are repeated). The qualitative analysis of the data revealed that in Kirundi, intra-verbal lexicalization of transitive forms involving reflexive and applicative affixes is an unquestionable fact. However, for reflexive derived verbs, the base root needs to permit the integration of the reflexive object. The two formal affixes (reflexive and applicative) are integrated in the lexicalized radicals, and the actancy diagram of formal and derived verbs is predictable. The derived lexicalized reflexive and the derived lexicalized applicative stems constitute a deponency aspect, and the combination of the reflexive object and the applicative suffix produces meliorative sens (sense of pride) and intensive sense (X-self sense). These meanings are based on the derived lexicalized applicative stems. As far as the reflexive-applicative derived verbs are concerned, they do not produce a lexicalized sense.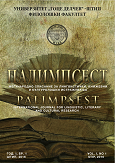 How to Cite
NTIRANYIBAGIRA, Constantin. INTRA-VERBAL LEXICALIZATION OF TRANSITIVE FORMS IN KIRUNDI. THE CASE OF REFLEXIVE AND APPLICATIVE AFFIXES.
PALIMPSEST / ПАЛИМПСЕСТ
, [S.l.], v. 4, n. 7, p. 47-54, sep. 2019. ISSN 2545-3998. Available at: <
http://js.ugd.edu.mk/index.php/PAL/article/view/3072
>. Date accessed: 03 july 2020.