BLOOD IS THICKER THAN WATER - THE INTERPRETER OF FOLK SONGS: DAFA CEPENKOVA
Abstract
This article is dedicated to Dafa Cepenkova, a famous interpreter of folk songs. She is a member of Cepenkov family from Prilep and was the sister of the well-known collector and writer of folk art Marko Cepenkov. Unlike her brother Marko, who possessed a remarkable talent for storytelling, Dafa possessed a singing talent. Most of the songs written in Naum Tahov's Collection belong to Dafa. The interpretation and the art of improvisation make the songs be sung with a sense of metrics and a soulful spirit, and some of these songs are works by the singer herself. That is why Dafa Cepenkova is ranked among the best Macedonian folk song interpreters of the 19th century.
Keywords: Dafa Cepenkova, Marko Cepenkov, Prilep, Krushevo, XIXth century, folk songs, folk art.
Downloads
Download data is not yet available.
References
Јашар-Настева, Оливера. (2001). Турските лексички елементи во македонскиот јазик. Скопје: Институт за македонска литература "Крсте Мисирков".
Конески, Блаже. (1959). Кон македонската преродба, македонските учебници од 19 век, второ издание. Скопје.
Мирчевъ, Д. (1904). "Бѣлѣжки по приѣпския говоръ". Во: СбНУНК, книга XX. София: Държавна печатница.
Пенушлиски, Кирил. (1980). Малеш и Пијанец III, Малешевски фолклор. Скопје: МАНУ.
Пенушлиски, Кирил. (1964). "Натпевки - (кратки) љубовни народни песни". Во: Современост, бр. 9.
Пенушлиски, Кирил. (1981). Македонскиот фолклор. Скопје: Мисла.
Речник на македонскиот јазик, том III. (1994). Составувачи Тодор Димитровски, Благоја Корубин и Трајко Стаматоски под редакција на Блаже Конески. Скопје: Детска радост.
Таховъ, Наумъ К. (1895). Сборникъ отъ македонски български народни пѣсни. София.
Цепенков, Марко К. (1972б). Народни песни, книга прва. Редактирал д-р Кирил Пенушлиски, соработник Блаже Петровски. Македонска книга, Скопје.
Цепенков, Марко К. (1972а). Материјали, литературни творби, книга десетта. Редак¬ти¬рал д-р Блаже Ристовски. Скопје: Македонска книга.
Чубелиќ, Твртко. (1968). "Претпоставки и предуслови за историјата на усната народна кни¬жевност во светот и во национални размери". Во: Македонски фолклор, бр. 2.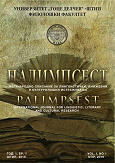 How to Cite
Koviloski, S. (2020). BLOOD IS THICKER THAN WATER - THE INTERPRETER OF FOLK SONGS: DAFA CEPENKOVA. PALIMPSEST / ПАЛИМПСЕСТ, 5(9), 171-178. https://doi.org/10.46763/palim2090171k
Section
КНИЖЕВНОСТ/ LITERATURE