BIOINDICATION ABBILITY OF Hypnum cupressiforme AND Homolothecium lutescens FOR DERMINATION OF ARSENIC DISTRIBUTION IN ENVIRONMENT
Biljana Balabanova

Trajče Stafilov

Institute of Chemistry, Faculty of Science, Ss. Cyril and Methodius University, Skopje, Republic of Macedonia

Robert Šajn

Geological Survey of Slovenia, Ljubljana, Slovenia

Claudiu Tănăselia

INCDO-INOE 2000 Research Institute for Analytical Instrumentation (ICIA), Cluj-Napoca, Romania
Abstract
Atmospheric dust emissions can be threat for the environmental and human health. Long-term emission occurs in this area due to the Pb-Zn hydrothermal exploitation (Sasa and Zletovo mines) and copper ore exploitation and flotation (Bučim mine), in the area of Bregalnica river basin. The present study propose a combined model based on: bioindication with moss species (Hypnum cupressiforme and Homolothecium lutescens), and universal kriging mapping for determination of arsenic distribution. For that purpose, 149 moss samples were collected from the area, and both moss species were used interchangeably. At the same sampling points, soil samples from the surface layer were also collected. Mass spectrometry with inductively coupled plasma (ICP-MS) was used for determination of total arsenic content in moss and soil samples. Prior to analysis, the samples were totally digested with the application of microwave system for samples digestion for moss samples and open wet digestion was used for total dissolution of soil samples. Spatial distribution maps were constructed for determination and localizing of narrower areas with higher contents of arsenic. The content of arsenic in moss tissue (regarding air-born dust) ranges from 0.05 mg/kg to 4.28 mg/kg, while distribution of arsenic in soil samples ranges from 3 to 261 mg/kg. Dominant lithogenic occurrence of arsenic was correlated with areas of Neogene pyroclastites (volcanism).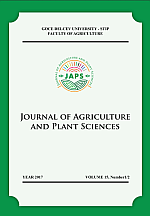 How to Cite
BALABANOVA, Biljana et al. BIOINDICATION ABBILITY OF Hypnum cupressiforme AND Homolothecium lutescens FOR DERMINATION OF ARSENIC DISTRIBUTION IN ENVIRONMENT.
Journal of Agriculture and Plant Sciences
, [S.l.], v. 15, n. 1/2, p. 15-26, dec. 2017. ISSN 2545-4455. Available at: <
http://js.ugd.edu.mk/index.php/YFA/article/view/1912
>. Date accessed: 09 aug. 2020.