IMPACT OF GYPSUM FROM THE ZGROPOLCI LANDFILL (CHEMICAL INDUSTRY – HIV- VELES) ON THE SCULPTURES AT THE ARCHAEOLOGICAL SITE STOBI, NORTH MACEDONIA
Keywords:
gypsum, archeological, ambient air
Abstract
The paper presents the results of the examinations of PM-10 particles from ambient air at the archeological site Stobi, in the period of June 2020. The results obtained by applying the SEM-EDS method indicate the presence of the mineral gypsum/anhydrite in morphological forms that are very similar to the gypsum present in the landfill for waste phosphorous gypsum in the vicinity of the village Zgropolci (HIVVeles).
Downloads
Download data is not yet available.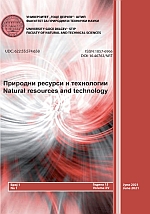 How to Cite
Jancev, M., & Boev, I. (2021). IMPACT OF GYPSUM FROM THE ZGROPOLCI LANDFILL (CHEMICAL INDUSTRY – HIV- VELES) ON THE SCULPTURES AT THE ARCHAEOLOGICAL SITE STOBI, NORTH MACEDONIA. Natural Resources and Technology, 15(1), 65-70. https://doi.org/10.46763/NRT211510065j
Section
Environmental Protection