GEOMAGNETIC RESEARCH OF THE ARCHAEOLOGICAL SITE ISAR MARVINCI, REPUBLIC OF NORTH MACEDONIA
Risto Popovski

Blagica Doneva

Gorgi Dimov

Ivan Boev

Trajce Nacev

Radmila Karanakova Stefanovska
Keywords:
Isar, geomagmetism, magnetic field, research
Abstract
In this paper are presented  the results of geophysical investigation un archeological site Isar-Marvinci. The results show low changes in the magnetic field and the local gradient, as it is an archeological site where there are no buildings and structures built of baked bricks that cause larger magnetic changes in the magnetic field over 100 [nT] or more [nT]. Small anomalies of the magnetic gradient probably indicate graves that have been confirmed by illegal diggers, whose presence can be seen on the ground.
Downloads
Download data is not yet available.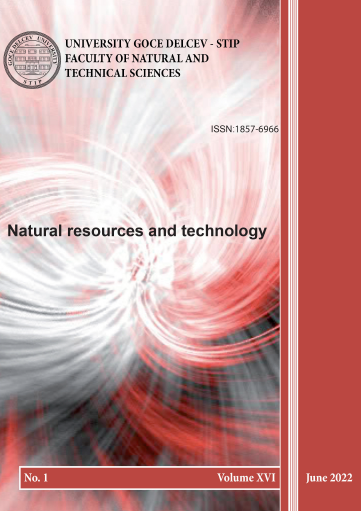 How to Cite
Popovski, R., Doneva, B., Dimov, G., Boev, I., Nacev, T., & Karanakova Stefanovska, R. (2022). GEOMAGNETIC RESEARCH OF THE ARCHAEOLOGICAL SITE ISAR MARVINCI, REPUBLIC OF NORTH MACEDONIA. Natural Resources and Technology, 16(1), 13-26. https://doi.org/10.46763/NRT22161013p