RADON FOOTPRINT FROM THE PHOSPHOGYPSUM WASTE STACK NEAR ZGRPOLCI LOCALITY, VELES, REPUBLIC NORTH MACEDONIA
Keywords:
radon, air, phosphogypsum waste
Abstract
Five locations and five samples of materials from the phosphogypsum waste stack near Zgrpolci locality, in the vicinity of the city of Veles, were checked for their radon concentrations in air and phosphogypsum radon exhalation rate. The accumulation method using AlphaGUARD DF2000 device was used for specific exhalation rate determinations as well as for radon concentrations in air. The activity concentrations of 222Rn at 5 different sampling locations of the anthropogenically introduced phosphogypsym waste stack near the Zgrpolci locality ranged from 21.02 up to 142.20 Bq kg-3. The 222Rn exhalation rates from these materials (from the same 5 locations) were in the range of 592.27-897.99 mBq m-2 h-1 .
Downloads
Download data is not yet available.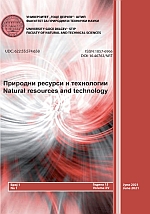 How to Cite
Jancev, M., & Boev, I. (2021). RADON FOOTPRINT FROM THE PHOSPHOGYPSUM WASTE STACK NEAR ZGRPOLCI LOCALITY, VELES, REPUBLIC NORTH MACEDONIA. Natural Resources and Technology, 15(1), 51-63. https://doi.org/10.46763/NRT211510051j