MINERALOGICAL ANALYSIS OF SAMPLES FROM THE OLD BOR MINE FLOTATION TAILING, REPUBLIC SERBIA
Todor Serafimovski

Ivica Ristovic

Blazo Boev

Goran Tasev

Ivan Boev

Matej Dolenec

Dalibor Serafimovski
Keywords:
ore minerals, tailings, Bor mine, quantification and mineralogical analysis.
Abstract
The mineralogical analysis of the samples from the Bor's mine tailings, which were taken from boreholes, was realized in two stages. As a qualitative ore microscopic and quantitative X-ray structural analysis. About a dozen ore minerals, of higher intensity, were detected by ore microscopic analysis, such as chalcopyrite, magnetite, pyrite, bornite, molybdenite, native gold, etc. Quantitatively, with the help of the scanning-electron microscope, the compositions of all significant ore minerals were determined, from which it should be emphasized that in most of them there are no major deviations from the reference values. For chalcopyrite as the most intense mineral, the copper concentration ranged from 33.24 to 36.33% Cu, iron from 29.78 to 32.13% Fe and sulfur from 32.40 to 35.73% S, while in bornite those concentrations ranged from 61.99 to 64.01% Cu, from 11.40 to 13.01% Fe and from 23.69 to 25.43% S. The quantification of XRD confirmed the presence of pyrite, quartz, nacrite, alunite, anorthite, hornblende and others.
Downloads
Download data is not yet available.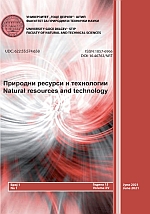 How to Cite
Serafimovski, T., Ristovic, I., Boev, B., Tasev, G., Boev, I., Dolenec, M., & Serafimovski, D. (2021). MINERALOGICAL ANALYSIS OF SAMPLES FROM THE OLD BOR MINE FLOTATION TAILING, REPUBLIC SERBIA. Natural Resources and Technology, 15(1), 37-50. https://doi.org/10.46763/NRT211510037s