AN OVERVIEW OF CONTEMPORARY TURKISH POETRY
Abstract
Turkish War of Independence (1919-1923) ended with the official ending of the Ottoman Empire and the founding of the modern Republic of Turkey (1923). The Alphabet Reform (1928) and Language Reform (1932) involved the change of the Turkish witting script from the Arabic to the Latin alphabet, as well as well as the elimination of Arabic and Persian loan words and associated imported grammar. As a result of these efforts, modern Turkish is a literary language developing free of foreign influences. All stages and aspects of modern Turkish history, life, culture, politics and language have found their direct or indirect expression in Turkish poetry. Two major poets, Yahya Kemal and Nazım Hikmet, marked the beginning of contemporary Turkish poetry. There are two important movements in the Turkish poetry: The Garip (Strange) movement and the İkinci Yeni (The Second New) movement. Also a lot of poetry marked the individual difference in Turkish poetry.
Keywords: Turkish literature; Contemporary Turkish poetry; Turkish language.
Downloads
Download data is not yet available.
References
Behramoğlu, Ataol (1997). Son Yüzyıl Büyük Türk Şiiri Antolojisi. İstanbul: Sosyal Yayınları.
Celâl, Metin (1998). Cumhuriyet Dönemi Çağdaş Türk Şiiri Antolojisi. İstanbul: Papirüs Yayınları.
(2007). Türk Edebiyatı Tarihi. C 4. İstanbul: Kültür ve Turizm Bakanlığı.
Fuat, Memet (2008). Çağdaş Türk Şiiri Antolojisi. İstanbul: Adam Yayınları.
Odabaşı, Yılmaz (2002). Son Çeyrek Yüzyıl Şiir Antolojisi. İstanbul: Alfa Yayınları.
Soysal, İlhami (2002). 20. Yüzyıl Türk Şiiri Antolojisi. İstanbul: Bilgi Yayınları.

*
Ерден, Ајсу; Мутлу, Ајтен (2010). Современа турска поезија. Скопје: Поетики.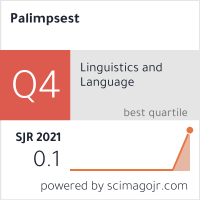 How to Cite
Leontik, M. (2021). AN OVERVIEW OF CONTEMPORARY TURKISH POETRY. PALIMPSEST / ПАЛИМПСЕСТ, 6(12), 149-163. https://doi.org/10.46763/PALIM21612149l
Section
КНИЖЕВНОСТ/ LITERATURE