ДЕТЕРМИНИРАЧКИ ФАКТОРИ НА ФИНАНСИСKИТЕ КРИЗИ
Vasilika Gaber-Naumoska

Stevan Gaber

Ilija Gruevski
Keywords:
Финансиски кризи, каматни стапки, берзански падови, кризи "близначки", економска нерамнотежа.
Abstract
Финансиските кризи претставуваат опасна економска појава која, доколку се случи, може да предизвика сериозни последици за една национална економија. Токму последиците се една од главните причини зошто интересот за оваа тема е непресушен. Во насока на подобро разбирање на финансиските кризи, трудот дава опис на главните и детерминирачки фактори, како што се порастот на каматните стапки, порастот на несигурноста, проблемите во банкарскиот сектор, фискалните нерамнотежи, и сл., кои се детектирани како виновници за сериозните економски падови во националниот производ, вработеноста и националниот доход. Подоброто разбирање на овие фактори треба да овозможи полесно предвидување на некои идни економски текови. Освен тоа, трудот делумно опфаќа и анализа на берзанските падови и на кризите "близначки" и нивните причинско-последични ефекти врз економијата.
Downloads
Download data is not yet available.
References
1. Bernanke, B. (2004). "Panel Discussion: Inflation Targeting". Federal Reserve Bank of St. Louis, Review vol. 86, no. 4 (July/August): 165-168;
2. Brunnermeier, K. M. (2001). "Asset Pricing under Asymmetric information", Bubbles, crashes, technical analysis and herding. Oxford University Press, p. 166-170;
3. Cagan, P. (1956). The Monetary Dynamics of Hyperinflation. In Friedman, Milton (ed.) Studies in the Quantity Theory of Money. Chicago: University of Chicago Press;
4. Eichengreen, B. & Rose, K. A. (1999). Contagious Currency Crises: Channels of Conveyance. NBER Chapters, in: Changes in Exchange Rates in Rapidly Development Countries: Theory, Practice, and Policy Issues (NBER-EASE volume 7), pages 29-56 National Bureau of Economic Research, Inc.; 5. Fiti, T. (2009). Fenomenologija na ekonomskite krizi. Ekonomski fakultet, Skopje;
6. Frankel, A. J. & Rose, K. A. (1997). The endogeneity of the optimum currency-area criteria. Swedish Economic Policy Review 4. p. 487-512;
7. Gaber, S. and Gaber-Naumoska,V. and Naumoski, A. and Gruevski, I. (2015). The Comprehension of the Financial Crises. International Journal of Sciences: Basic and Applied Research, 24 (7). pp. 229-237;
8. Ghosh, N. B. (2001). Global financial crises and Reforms. Routledge, London;
9. Kaminsky, L. G. and Reinhart, M. C. (1999). The Twin Crises: The Causes of Banking and Balance-of-Payments Problems. American Economic Review, 89 (3): 473-500;
10. Krugman, P. (1979). A Model of Balance of Payments Crises. Journal of Money, Credit and Banking, Vol. 11, No. 3, p. 311-325;
11. Mishkin, F. (1996). The Channels of Monetary Transmission: Lessons for Monetary Policy. National Bureau of Economic Research;
12. Mishkin, S. F. (2004). The Economics of Money, Banking and Financial Markets. Pearson Education, Inc., Upper Saddle River, New Jersey, USA;
13. Velasco, A. (1987). Financial crises and balance of payments crises: AA simple model of the southern cone experience. Journal of Development Economics, vol. 27, issue 1-2, 263-283.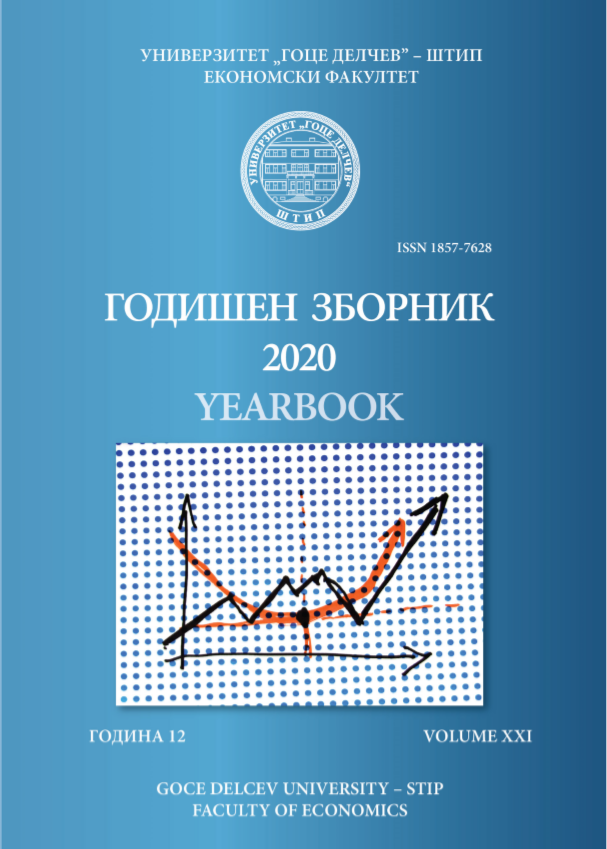 How to Cite
Gaber-Naumoska, V., Gaber, S., & Gruevski, I. (2020). ДЕТЕРМИНИРАЧКИ ФАКТОРИ НА ФИНАНСИСKИТЕ КРИЗИ . Yearbook - Faculty of Economics, 21(1), 73-83. Retrieved from https://js.ugd.edu.mk/index.php/YFE/article/view/3932