CAPSAICIN AND DIHYDROCAPSAICIN VARIABILITY IN Capsicum sp. CULTIVARS FROM REPUBLIC OF MACEDONIA REVEALED BY VALIDATED HPLC METHOD
Viktorija Maksimova

Faculty of Medical Sciences

Liljana Koleva GUdeva

Rubin Gulaboski

Maja Shishovska

Zorica Arsova Sarafinovska
Abstract
Capsaicinoids are large group of analogues synthesized in hot peppers, Capsicum annuum L. as secondary metabolites. Hot peppers are widely used in nutrition but their exploitation could be increased because of capsaicin's pharmacological properties, as analgesic, antidiabetic, hypolipidemic and antitumor agent. Therefore, the aim of this study was to determine capsaicinoids (capsaicin and dihydrocapsaicin) in ethanolic extracts obtained from the fruits of 15 different genotypes and evaluate their variability. Quantification of capsaicinoids extracted from peppers cultivated in Republic of Macedonia have been performed by a validated simple and sensitive HPLC method. Although capsaicin has been known as the highest represented in the group of capsaicinoids, it was found in this study that genotypes that contain higher amount of total capsaicinoids has even higher content of dihydrocapsaicin than capsaicin. The ratio of capsaicinoids in the extracts obtained by Soxlet method was similar to that of extracts obtained by maceration. In the extract obtained from vezena dolga, capsaicin has been represented with 42.80% and 45.99% dihydrocapsaicin. Their content in the extract from dzinki was 31.44 and 45.41% for capsaicin and dihydrocapsaicin, respectively, and in the extract from vezena kusa capsaicin has been represented by 28.85% and dihydrocapsaicin by 48.82%. Since, the biological activity of dihydrocapsaicin has not been clearly reported; these data can be very useful for breeders of hot peppers aimed in further extraction of capsaicin for medicinal purposes.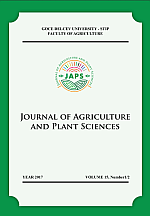 How to Cite
MAKSIMOVA, Viktorija et al. CAPSAICIN AND DIHYDROCAPSAICIN VARIABILITY IN Capsicum sp. CULTIVARS FROM REPUBLIC OF MACEDONIA REVEALED BY VALIDATED HPLC METHOD.
Journal of Agriculture and Plant Sciences
, [S.l.], v. 15, n. 1/2, p. 89-96, dec. 2017. ISSN 2545-4455. Available at: <
http://js.ugd.edu.mk/index.php/YFA/article/view/1909
>. Date accessed: 23 sep. 2019.