А NEW APPROACH FOR INTRODUCTION OF DIGITAL GRANULOMETRIC ANALYSIS OF CRUSHED MATERIAL
Zoran Panov

Prof.

Vancho Adjiski

Goce Zlatkov

Radmila Karanakova Stefanovska

Risto Popovski
Keywords:
софтвер, гранулометриска анализа, фотограметрија, анализа на парчиња
Abstract
In this paper, an attempt was made to define the approach for introduction of digital granulometric analyze of the crushed material by applying photogrammetric methods and using software for recognition and analysis of pieces. For the needs of the work, geometric analyzes of the crushed material in laboratory conditions were made from a jaw crusher. Based on the obtained results and application of software solutions, granulation assessment was made. The modeled granulation gave the ability to perform certain conclusions and suggestions for further use of these methods for determining the granulometric analize not only in laboratory conditions but also in situ, of crushed material after blasting, loading, transport, unloading etc.
Downloads
Download data is not yet available.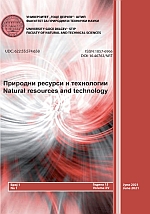 How to Cite
Panov, Z., Adjiski, V., Zlatkov, G., Karanakova Stefanovska, R., & Popovski, R. (2021). А NEW APPROACH FOR INTRODUCTION OF DIGITAL GRANULOMETRIC ANALYSIS OF CRUSHED MATERIAL. Natural Resources and Technology, 15(1), 13-25. https://doi.org/10.46763/NRT211510013p