THE SIGNIFICANCE OF THE PRIVATE AND PUBLIC BUILDINGS FOR THE URBAN DEVELOPMENT OF THE CITY CORE OF SKOPJE
Petar Namichev

Ekaterina Namicheva
Abstract
Different parts of the city have different meanings, forming in the same way as the recognizable urban parts. The justification of these meanings is not solid, it can be sought in various sources. Initially, these meanings stem from social history through a sense of shared cultural sediment. At the beginning of the 20th century, we detect certain parameters for creating a specific core of the city of Skopje. During this period, various interpretations of the new tendencies appear, pointing to different possibilities and methods for achieving results. We note the presence of a specific stylistic formation that is generally defined by the term "academism". With the development of academism in the interwar period, foreign architects will contribute to the overall architectural image, who through their compositions have created different variants of academism. This paper examines the different academic compositions through the analysis of public and private buildings that have contributed to the development of the central city core in the city of Skopje.
Keywords: public space, private space, central core, academism.
Downloads
Download data is not yet available.
References
Bergel, E. (1955). Urban sociology. New York.
Bogue, D., & Hauser, P. J. (1963). Polpulation distribution, urbanisam and internal migration. World Population Conference.
Castells, M. (1977). The Urban Question (3rd изд.). London: Edward Arnold Ltd.
Enciklopedija, M. (1978). Beograd: Prosveta.
Gottmann, J. (1967). The skyscraper amid the sprawl. (G. J., Ур.) New York: Metropolis on the move.
Inkiostri, D. (1981). Preporođaj srpske umetnosti. Ideje srpske umetničke kritike i teorije 1900-1950, 3, 44-54.
Kadijević, A. (н.д.). O radu ruskih arhitekata u Juznoj Srbiji u periodu izmegu dva svetska rata. стр. 250.
Kojić, B. (1979). Drustveni Uslovi Razvitka Arhitektonske Struke u Beogradu 1920-1940. Српска академија наука и уметности (81).
Manević, Z. (1972). Novija srpska arhitektura. Srpska arhitektura 1900-1970, Jugoslovneska umetnost XX veka, 11.
Park, R. E., & Burgess, E. W. (1967). The City , Suggestions for Investigation of the human behaviour. London: The University of Chicago Press.

*
Грчев, К. (2003). Архитектонските стилови. Скопје: Институт за фоклор "Марко Цепенков".
Историја на македонскиот народ (1988). Во: весник Политика, Скопје, стр. 217-234.
Стефанов, Т. (1994, Октомври 1). Како во ориентална сказна. Вечер, стр. 14.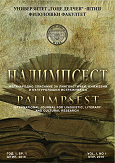 How to Cite
Namichev, P., & Namicheva, E. (2020). THE SIGNIFICANCE OF THE PRIVATE AND PUBLIC BUILDINGS FOR THE URBAN DEVELOPMENT OF THE CITY CORE OF SKOPJE. PALIMPSEST / ПАЛИМПСЕСТ, 5(10), 57-70. https://doi.org/10.46763/PALIM20100057n