SPATIAL CHARACTERISTICS OF THE TRADITIONAL VILLAGE HOUSE IN SKOPJE REGION OF THE 19TH CENTURY
Ekaterina Namicheva

Petar Namichev
Abstract
Rural settlements in the Skopje region contain certain types of habitats in terms of evolution, with the formation of huts, cottage, house-ground floor, house-above-ground, house on the porch, house with a chardak, house-tower and complex houses. The spatial features of the dwellings contain economic rooms in the ground floor (porch, storeroom and barn), while on the first floor are the living rooms (porch, room and house). The spacious dimensions in the interior changed depending on the needs of the family, with the partition of the space on the porch. The interior of the dwellings was quite modest with equipment and decoration, with modest household items, which were present in the room - house, on the porch and in the room. Due to the relatively similar climatic and economic conditions, the dwellings in the Skopje area are dominated by the type of house with an open porch as a protective model of a house, specific to the climate and the popular perceptions of the population in the region.
Keywords: house; interior; space; evolution; porch; room; stone.
Downloads
Download data is not yet available.
References
[1] Алексиевска Ј., Вољинец Р. (1993). Архитектурата на станбената куќа од с. Бродец. Културно наследство, (16), 192–212.
[2] Вољинец Р., Хаџиева Ј. (1984). Старата куќа чардаклија во селото Мирковци. Културно наследство, (9), 57–78.
[3] Вољинец Р., Хаџиева Ј. (1985). Функционално обликовната концепција во архитектурата на старата куќа во селото Горно Соње, Скопско. Зборник на АФ (8), 27–50 .
[4] Намичев П. (2007). Развојот на куќата во Македонија. Скопје: Музеј на Македонија.
[5] Намичев П. (2009). Селската куќа во Македонија. Скопје: УЗКНМ.
[6] Намичев П., Намичева, Е. (2018). Традиционалната архитектура во Скопска Црна Гора од 19 и почетокот на 20 век. Скопје: П. Намичев.
[7] Намичев П. (2020). Традиционалната куќа во скопско. Скопје: Град Скопје.
[8] Намичев П. (2021). Традиционалната куќа-чардаклија во скопско од 19 век. Скопје: Град Скопје.
[9] Томиќ С. (1905). Скопска Црна Гора. СЕЗб, књ. 6, Насеља српских земаља, књ. 3. Београд: САНУ.
[10] Хаџивасиљевиќ Ј. (1930). Скопље и његова околина, Историска, етнографска и културно политичка излагања. Београд: Св. Сава.
[11] Христова С., Намичев П. (2004). Говрлево нема да умре. Копер: Аналес Медитеранеа.
[14] Цвијиќ, Ј. (1906). Основе за географију и геологију Македоније и Старе Србије, књ. 1. Београд: САНУ.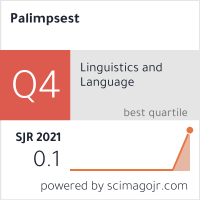 How to Cite
Namicheva, E., & Namichev, P. (2021). SPATIAL CHARACTERISTICS OF THE TRADITIONAL VILLAGE HOUSE IN SKOPJE REGION OF THE 19TH CENTURY. PALIMPSEST / ПАЛИМПСЕСТ, 6(12), 187-199. https://doi.org/10.46763/PALIM21612187n